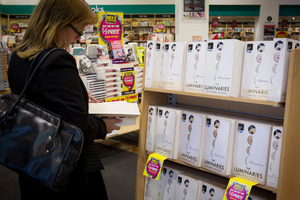 There are already reports of a spike in sales of Eleanor Catton's Man Booker winning novel The Luminaries.
Joan Mackenzie, book manager at Whitcoulls on Queen St in central Auckland, said there had been "a big uplift'' since her win was announced this morning.
"But even before ... it was quite clear it was one of the books of the year and sales had reflected that,'' Ms McKenzie said.
"Every so often a book comes along that sparks a particular level of interest and I think it's been helped by the quality of the reviews and obviously the Booker shortlisting, but it stands on its own as a work of real merit, and I think people responded to that.''
Customers buying copies of the book this morning said they were spurred into action by this morning's award.
"I've just read the judges' citation, which makes it sound exceptional,'' Richard Ebbett said.
"I don't normally buy long novels.''
Read an extract from the book here
Chelsea Nichols was buying a copy for a friend, having already read it herself.
"It's a really wonderful story,'' she said. "The win was well deserved.''
Unity Books on Auckland's High Street had put balloons in its window display alongside copies of The Luminaries to celebrate the win. Inside a sign by a stand of Catton's winning novel read: "She did it.''
Owner of the store, Jo McColl said the book had been selling "incredibly well''.
She said it was the "biggest selling fiction for about the last month''.
"I have never seen a New Zealand book take off so well from the moment it was published,'' Ms McColl said.
"The Luminaries just immediately went nuts.''
- APNZ