Gone are the days when soggy pies make the cut, writes Don Kavanagh.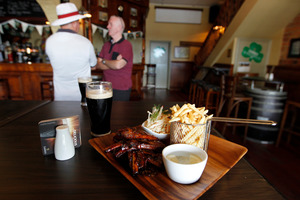 There isn't anything better than sitting in a good pub with friends and a few ales, unless it's sitting there for an entire afternoon.
The thought of wasting the best part of a day inside my local fills me with pleasure, because I happen to be very lucky to live close to a fantastic pub. I spent a few hours last weekend passing time and drinking a few quality pints when something else struck me.
I realised that I'd become a bit spoiled by having the Clare Inn on Dominion Rd as my local. Not only is it a great drinking pub, but the kitchen wins medals for its output in terms of quantity and quality.
Food is an important weapon in a bar's arsenal these days, as people expect a certain level of excellence in their food. In fact, people expect far too high a level of excellence and seem convinced that neighbourhood bars have an onus to produce restaurant-standard food at pub prices.
I blame the glut of food porn on telly for this unseemly obsession with high-end cuisine, as people who would have been happy enough with a soggy pie a few years back now demand rare baby echidna poached in Champagne with a balsamic reduction and a side of beetroot crisps.
I'm old enough to remember when the standard of cuisine in Kiwi bars was patchy to say the least and when the vegetarian option consisted entirely of a bowl of chips. These days you're lucky if you can lift the menu, so comprehensive are they.
I'm a bit torn about the very concept of food in bars anyway. I grew up in a time when pubs were for drinking and restaurants were for eating, but such demarcation lines mean nothing these days.
But I will admit to loving the fact that if you don't fancy leaving the bar in the afternoon, you can always order a meal and let some other poor bugger do the dishes. Which brings me back to my local, where the kitchen works miracles with food, from the humble potato to more esoteric dishes.
Indeed, the Clare Inn just picked up another award for its slow-roasted lamb shoulder, winning the best lamb dish trophy at the Hospitality New Zealand awards. I mention this because it's quite a big deal. The HNZ awards is a national competition and for a wee pub on Dominion Rd to be recognised for its food is a bit special.
And even better, this is the second time it has won the award. Last year, it picked up the award for best beef dish with its beef and stout wellington. Chef Campbell Sprague manages to turn out astonishingly good dishes for very reasonable prices and it's well worth a visit.