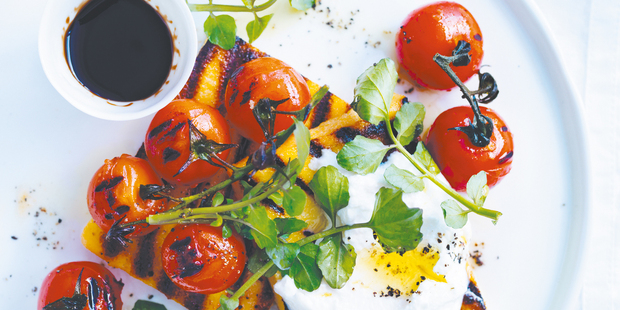 Serves 4
• 1 x quantity soft polenta (see below)
• 300g truss cherry tomatoes
• Olive oil for brushing, plus extra to serve
• 150g goat's curd
• 50g watercress sprigs
• Sea salt and cracked black pepper
• Store-bought balsamic glaze, to serve


1. Spoon the soft polenta into a lightly greased 20cm x 30cm tin lined with non-stick baking paper and smooth the top with a palette knife. Put in the fridge for 30 minutes or until set.
2. Heat a chargrill pan or barbecue over high heat. Cut the polenta into 8 pieces. Brush the polenta and tomatoes with oil. Grill the polenta for 2-3 minutes each side or until charred and crispy, set aside and keep warm. Grill the tomatoes for 3-4 minutes or until just charred.
3. Divide the polenta between serving plates, top with the tomatoes, goat's curd and watercress. Drizzle with olive oil, sprinkle with salt and pepper and serve with the balsamic glaze.

Tips and tricks
• The trick to making extra-smooth polenta is to stir it continually while it's on the stove, getting rid of any lumps as it thickens.
• We've used instant polenta in these recipes, as it's simple and quick to make. If you wish to use regular polenta, follow the instructions on the packet, remembering it takes longer to cook.
• For a variation of flavours, stir different cheeses, such as pecorino or fontina, through your soft polenta. Most herbs work well, too - try adding oregano, thyme or sage.
For more recipes visit the Donna Hay website, www.donnahay.com.