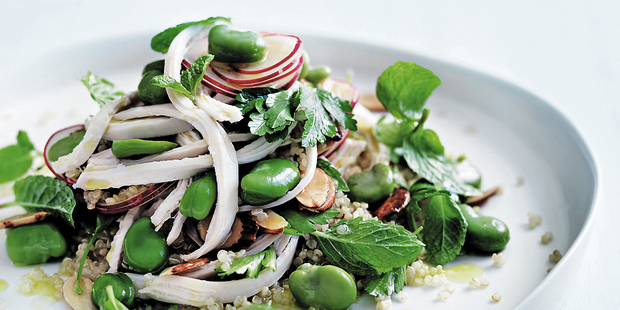 Chicken, broad bean and quinoa salad. Photo / Donna Hay Magazine
Serves 4
• 2 cups cooked quinoa+
• 400g chicken breast, cooked and shredded
• 1.2kg broad beans, shelled, peeled and blanched
• 100g radishes, thinly sliced
• ¼ cup flaked almonds, toasted
• 1 cup flat-leaf parsley leaves
• 1 cup mint leaves
• Sea salt and cracked black pepper
• 2 Tbsp lemon juice
• 2 Tbsp olive oil


1. Place the quinoa, chicken, beans, radish, almonds, parsley, mint, salt and pepper in a large bowl and toss to combine.
2. Place the lemon juice and olive oil in a small bowl and whisk to combine.
3. Drizzle over the salad and toss well to combine. Divide the salad between 4 plates to serve.
+ You'll need 1 cup uncooked quinoa to obtain the 2 cups cooked quinoa required for this salad.
Cook
according to the directions on
the packet.


Tips and tricks
• Cooking broad beans takes a little bit of preparation, but it's worth it. Depending on the age of your beans, you'll most likely need to double-peel them. Shell the beans from their pods, and blanch them in salted boiling water for no more than 1 minute. Peel the grey skins to reveal the bright green beans, then refresh them under cold running water to halt the cooking process and retain their brilliant colour.
• Broad beans are in season in spring. When they're unavailable fresh, you can buy them frozen at most supermarkets. Thaw and use them as directed.