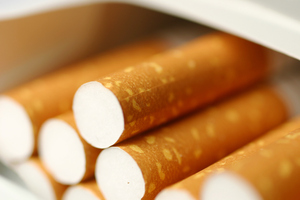 Calls for a smoking ban in cars have been reignited by new research showing nearly a quarter of Kiwi youngsters are being exposed to second-hand smoke in vehicles.
The Otago University research, led by department of public health professor Richard Edwards, found 23 per cent of 14 and 15-year-olds were affected by second-hand smoke in vehicles during a given week.
According to the research, which used annual surveys from 2006 and 2012, more than half of those affected said they were subject to second-hand smoke in vehicles at least three times during the survey week.
About 25,000 14 and 15-year-olds participated in the surveys each year, and the research results supported a smoking ban in vehicles with young people, Prof Edwards said.
"Kids exposed to second-hand smoke are at higher risk of various diseases.''
These include respiratory infections like pneumonia and chest infections. It can also bring on asthma attacks for sufferers and contribute to sudden unexpected infant death, professor Edwards said.
While the results showed a slight downward trend in the number of kids being exposed over the seven-year period, there was no reduction in marked inequalities in exposure by ethnicity and socio-economic position.
International research showed banning smoking in cars with youngsters would reduce children's exposure to "a proven health hazard'', Prof Edwards said.
"Moreover, in-vehicle second-hand smoke exposure is consistently and significantly associated with susceptibility to initiation and more frequent smoking.''
He also warned tobacco addicts that lighting up while the windows were down was still harmful to children in the car.
Action on Smoking and Health (ASH) spokesman Michael Colhoun said the survey results were unacceptable.
"ASH backs a law change to prevent smoking in cars with children, as unfortunately young passengers aren't always in a position to speak up when drivers or passengers smoke in cars.''
Associate Health Minister Tariana Turia, who is championing New Zealand's 2025 smokefree goal, proposed a ban on smoking in vehicles with children last October _ citing success overseas with the policy.
In Queensland, where the practice has been illegal for nearly three years, adults are slapped with a A$200 fine if they are caught smoking while children under 16 years of age are in their vehicle.
Ms Turia's office said this evening the Government was considering ways in which a ban could be achieved.
Previous research has estimated about 350 people die from second-hand smoke each year in New Zealand.
Professor Edwards' research has been published online in the international journal Tobacco Control.
***
Second-hand smoke:
* At least 127,700 children aged under-14 were exposed to second-hand smoke in their homes during a surveyed week
* Every week 143,200 people were exposed to second-hand smoke in cars
* Children exposed to second-hand smoke are at increased risk of:
- Premature death
- Sudden unexpected death in infancy (cot death)
- Chest infections
- Ear problems
- More severe asthma
Source: 2009 New Zealand Tobacco Use Survey