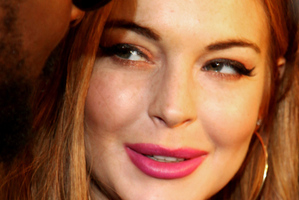 Lindsay Lohan's half-sister is said to have spent over US$25,000 (NZ$30,840) on cosmetic work in a bid to look like her famous sibling.
Ashley Horn, whose mother is Kristi and father is Lohan's father, Michael, has showed off her new post-surgery look in the new issue of US magazine In Touch, and she is listing all of the procedures she underwent to resemble Lindsay.
Check out the before and after pictures here.
The 18-year-old underwent five procedures to try and obtain Lindsay's unique look, including a nose job and several fillers.
She tells the publication, "I've gotten rhinoplasty, a bit of refinement underneath my cheeks and jawline, some fat injected into my chin and some fat injected into my upper cheeks...
My goal was to look like Lindsay in her good days, when she was around 18, 19 years old."
She's thrilled with her Houston, Texas surgeon's handiwork.
"I'm hotter than Lindsay! I have no problem saying that," she says.
Ashley, who has never had a relationship with her star sister, says that she does not have a penchant for partying and has no plans in the future to reach out to the newly sober star.
She explains, "I'm not Lindsay. I wasn't raised in that family. I don't drink, do drugs or party. I like being a responsible person."
News that Lindsay had a half sister surfaced in 2011 after it emerged that Ashley's mother Kristi had a secret affair with Lindsay's father Michael Lohan while he was still married to now ex-wife, Dina Lohan.
Lindsay later spectacularly vowed never to meet Ashley, adding she wanted nothing to do with the "circus" that is her father Michael.
- WENN, DAILY MAIL