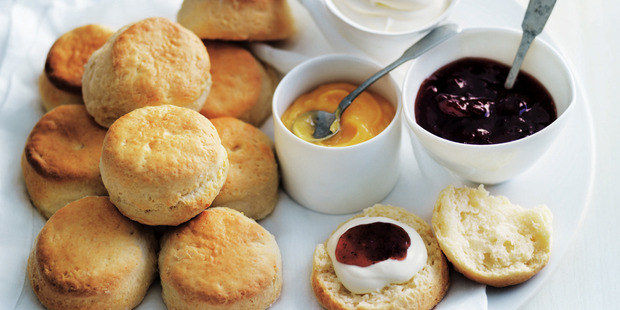 Is there anything more welcoming than warm, freshly baked scones for afternoon tea? They're the ultimate in country comfort. Topped with pillowy cream and a tart berry jam, it's a match made in heaven. Follow this step-by-step guide and you'll serve light, fluffy scones every time.
Makes 15
• 3 ½ cups self-raising flour
• 2 tsp baking powder
• ½ cup caster sugar
• 75g unsalted butter, melted
• 1 cup milk, plus extra for brushing
• ¾ cup pouring cream
• Strawberry jam, whipped cream and store-bought lemon curd, to serve


Step 1. Preheat oven to 180C. Place the flour, baking powder and sugar in a bowl and mix to combine. Add the butter and mix to combine. Make a well in the centre of the flour mixture and pour in the milk and cream. Using a butter knife, gradually mix in the milk and cream until just combined. Do not overwork the dough, or you'll end up with hard, tough scones. By using a butter knife and a lighter touch to mix the dough, you'll avoid overworking the gluten in the flour.
Step 2. Turn the mixture out on to a well-floured surface and gently bring the dough together with your hands. Roll out the dough until 2.5cm thick and use a 5.5cm round cookie cutter to cut out 15 rounds.
Step 3. Place the scones on a lightly greased baking tray lined with non-stick baking paper and brush them with milk. Bake the scones for 15-20 minutes or until cooked when tested with a skewer. Serve with the jam, cream and lemon curd.


Tips and tricks
• Straighten up. To get more regular sides on your scones, avoid twisting the cookie cutter when cutting - push straight down instead.
• Dip in. Dip your cookie cutter in a little flour to release the scones more easily on to the baking tray.
• Up close. Place the scones close to each other on the baking tray so they rise upwards.
Top it off. Top your scones with ricotta and golden syrup instead of traditional jam and cream for a different flavour.
Variations
• For date scones, add 1 cup of chopped pitted dates and 1 Tbsp of finely grated orange rind to the flour mixture, with the butter, for lovely sweet date scones.
• For coconut scones, add 3/4 cup of desiccated coconut to the flour mixture, with the butter. Serve warm with your favourite berry jam.
For more recipes visit the Donna Hay website, www.donnahay.com.