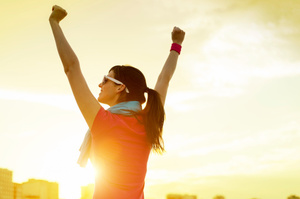 Last week we looked at the three main reasons we procrastinate, all of which are fear-based. Once you have identified which fear is driving your procrastination, pick a strategy from the five below that resonates most with you and make your goal a happening thing. Remember, a goal is a dream with a deadline.
1. Make it public
Tell everyone you are running the marathon in six months/ going to lose 20kg/going back to university. The public feedback and encouragement will help you keep your commitment and prevent you backsliding into procrastination.
2. Get an accountability partner
Find someone (or a group) who is on the same path. A friend you can meet for a walk three times a week. A group who are all running their own business and would enjoy a weekly check-in. An online discussion group on whatever your subject matter is. Or a coach like me who will give you a loving but firm kick up the behind to stay on track.
An accountability partner will make you accountable to the goal you have set yourself as a priority. The external support makes it easier to prioritise as you don't want to let the other party down, which encourages you to stay on track.
3. Set a timer
Some projects get mired in procrastination as we get stuck in the research phase and never actually take it to the action phase. Remember a goal is a dream with a deadline, so set a deadline! Avoid "project creep" and the project taking over your entire life by setting timed boundaries.
E.g. I am going to research circus training schools for one hour and then I AM GOING TO MAKE A DECISION and move forward. Be strict. Your best work will be in the first section of time anyway. Be okay with not seeing every single possible option but learn enough to make a decision (even if it is an 80 per cent perfect decision not a 100 per cent perfect decision).
Decide and move. Keep the momentum going.
4. Big project: Small steps
How do you reach the top of Everest? Lots of small steps. Just keep putting one foot in front of the other. Research paint samples; buy the paint; hire the ladder; rope in the friends; order the pizza; clean the walls; paint the house one wall at a time. That project you have been procrastinating on forever is usually a big project, if it was small and easy you would have done it already, so accept it will mean small steps, lots of them, joined together. Start stepping forward.
5. Reward yourself big time
Big projects that we procrastinate on are not always the fun ones. Clearing out the garage, say. So bribe yourself. Make the task as 'better' as you can (put on some banging music, get your teenagers to help) and then give yourself a big reward on completion. A round of golf. A family meal. Whatever is a big enough reward to break the intertia of procrastination.


Action step
Have a look at your mental list of stuff you have been procrastinating on, maybe for years, decades even. Decide if It's something you really really want. If it is, then start stepping forward today, imperfectly but with conviction.


Louise Thompson is a life coach, yoga teacher and corporate escapee. For more from Louise, visit positivebalance.co.nz or connect on Facebook.