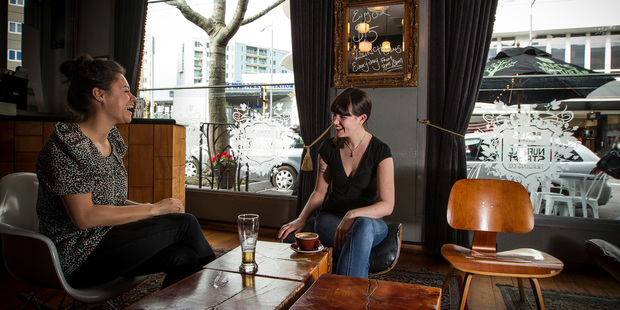 I have to say that I was unimpressed when I first set eyes on the redeveloped Nuffield St, quite some years ago now.
It seemed a bit contrived and I didn't think people would be fooled into shopping there by simply planting a few trees and enticing some rather high-end retailers, but they were, and the precinct is now a popular spot among the well-to-do.
And wherever you get dedicated shoppers, you get welcoming bars, happy to offer a place where you can take a load off your tired stilettos and lay down your weary purchases. Nuffield St is no exception and quite a few places have opened towards the Remuera Rd end, making a nice little parade of cafes, bars and restaurants.
The Nuffield Street Trading Co is a Mac's bar, but with a bit of a difference.
The first thing you notice is the eclectic decor, with 1970s-style furniture alongside Art Nouveau pieces, and a rustic element thrown in. Bewildering.
There's no way I can do the look of the place justice, so your best bet is to check it out yourself.
I visited on a busy Friday night and the bar was abuzz with bright young things eagerly conversing. Despite the hubbub, it wasn't too loud to hear yourself think and the service was quick and friendly from a bartender who even had time to share a joke.
The beer selection is entirely from the Mac's range on tap, as you'd expect, but it does offer pretty much the full range and Shady Pale seemed to be the order of the night for most people visiting the bar.
The wine list is reasonable, but clearly weighted in favour of two suppliers, which trims your choice a little.
The food is another story. With everything from pizzas to tiger prawn salad, the menu is pretty comprehensive.
The platters are a popular option, and - this being Newmarket - there is even a "wellbeing" option, offering some lovely, healthful options with a Bloody Mary shot on the side.
Overall, then, it's a cracking little spot, with enough eclectic touches to keep the inner decorator busy, and clean and pleasant surroundings. It's also a clearly popular spot among shoppers and workers alike and you can see why.
In a cold, hard world it's nice to find a little oasis of calm amid the chaos.
Scores
Service: 4
Menu: 4
Drink: 3
Atmosphere: 3.5
Overall: 3.5