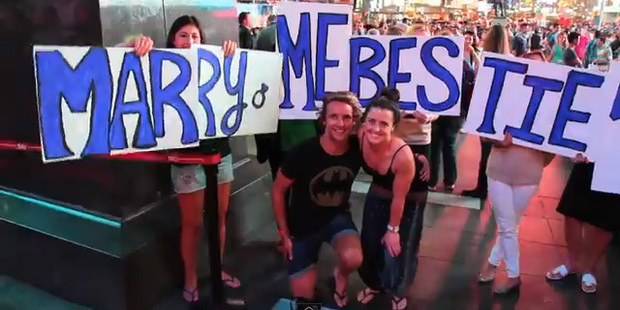 Thousands of happy couples get engaged in New York's Times Square, but New Zealander Shaun Kavanagh's surprise proposal to his girlfriend is probably among the sweetest.
The moment was captured on a video posted to YouTube with the title One Night in New York and set to music by Bruno Mars and Beyonce.
Watch the video here
Mr Kavanagh, 26, from Lower Hutt, offered to take a photo of Ashley Kirby in Times Square. Little did she know that, behind her, her friends were holding up signs that read "Marry Me Bestie?"
After looking at the shot, she turned round to see them, before turning back to find Mr Kavanagh on one knee holding a ring.
Her answer: "Oh my God! Yes!"
A crowd that had noticed the unusual proposal and gathered round the couple started clapping.
Ms Kirby, who is Australian, said in the video she had no clue what was going on.
"No idea, no idea, no idea. I'm like shaking."
Mr Kavanagh said he knew he wanted to propose sometime this year and had September 18 in mind, the day they met three years ago while on holiday in Croatia.
But when he qualified for the Ironman World Championships in Las Vegas he said he decided to propose to Ms Kirby in New York City.
"I thought why not add on NYC to the trip to the USA and propose to Ashley in her favourite place in her favourite city."
It went exactly as planned, he said.
"Was I nervous about her saying no? Never. I was confident of the answer a long time before I had even planned up this proposal.
"It worked and it worked a lot better than I could have imagined ... I was very happy."
The couple have two nights left in New York before flying back to Sydney where they both live.
The end of the video, which has already been viewed more than 1000 times, concludes with a quote from Nat King Cole - "The greatest thing you'll ever learn is to love and be loved in return".
- APNZ