Danielle Wright finds a lot more than roast dinners when looking for places to eat out on a Sunday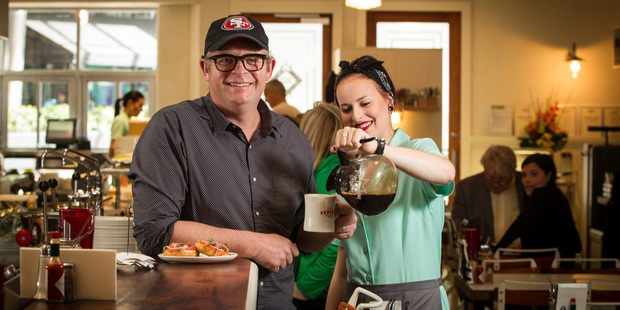 No matter what kind of week you've had, getting together with friends and family on a Sunday over a good meal makes everything okay again - at least for a couple of hours. Here are some options in and around the city so you'll always have a different Sunday dining experience to look forward to:
The Federal Delicatessen
86 Federal S t, Auckland City, ph (09) 363 7184, thefed.co.nz, open seven days 7am - late.
Al Brown has fallen in love with Jewish Soul Food and he describes newly opened The Federal Delicatessen as Depot's Northern Hemisphere cousin.
The venue has the look and feel of an authentic Jewish delicatessen in the 1930s - from the retro waitress dresses to the booths and soda fountains.
"At one stage there were more than 1500 Jewish delicatessens in New York," says Al, who's not Jewish, just fascinated by their food.
"Now there are under 20."
"The thing about a delicatessen is that it's a place of conversation and laughter," explains Al. "It's where you go if you want a happy, noisy place."
As I'm tucking into the perfect New York Cheesecake, a gentleman in the booth behind me is enjoying his pastrami sandwich. Al tells me the man is a true New Yorker who retired to New Zealand. He's a very happy customer, a great endorsement on opening day from a man who knows Jewish delicatessens well.
And while the food looks effortless and uncomplicated, delve a little deeper and you find the artisan elements in everything. Take the pastrami - it's brined for over a week, then rubbed with spice, smoked and then steamed. The result is melt-in-our-mouth delicious. Al and his team spent a year working on this one recipe.
"Food's all about the preparation," explains Al. "Delicatessen food is very humble but it often gives more pleasure than something like lobster or caviar - if it's cooked well and with love."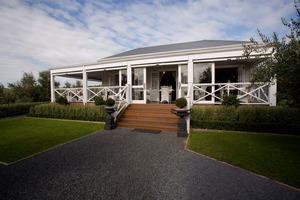 Bracu Restaurant
Simunovich Olive Estate, 49 Main Rd, Bombay, ph (09) 236 1030, simuolive.co.nz, open Sundays for brunch from 9.30am and for lunch from midday to 2.30pm. Clay shooting must be pre-booked a week in advance and is available for 6+ guests.
A short drive from the CBD and you'll find the elegant country restaurant, Bracu, nestled amid an olive grove. Sit in the kauri villa, on the veranda or on the grass with a specially prepared picnic lunch. Afterwards, walk around the estate or try your luck at clay shooting to complete the country experience.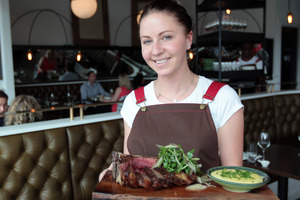 Baduzzi
Cnr Jellicoe St and Fish Lane, North Wharf, Auckland, ph (09) 309 9339, baduzzi.co.nz, open Monday to Friday 7.30am-late, Saturday and Sunday 11.30am-late.
Every nationality has its version of the meatball. Whether it's the Kiwi rissole or the Indian kofta, they're well loved from Poland to Pittsburgh. Now Auckland has a restaurant dedicated to them thanks to Michael and Annette Dearth (The Grove) and new restaurant Baduzzi (the Sicilian word for meatball).
Through a red door, the restaurant features marble, copper and leather with 18th century stained glass windows, tiles from Sicily and Romanesque silver water jugs.
Chef Ben Bayly, whom Michael describes as his "other wife", has created the menu which features an Italian American Wedding Soup, Wild Red Deer Meatballs with Portobello Mushrooms and Coromandel Crayfish Meatballs with Savoy Cabbage, Braised Chickpeas and Heritage Carrots.
After you've eaten to your heart's content Michael advises: "Do what the Italians do, go home and sleep."
Takapuna Beach Cafe
22 The Promenade, Takapuna, ph (09) 484 0002, takapunabeachcafe.co.nz. Open Sundays 7am-8pm.
After a walk along Takapuna Beach, head to the Takapuna Beach Cafe for freshly baked artisan bread and pastries, including the famous Cronut - a cross between a croissant and a donut. Cool down with an iced tea made with meyer lemon, honey and ginger or an espresso spider with vanilla bean gelato. For those with a sweet tooth, experience a Milse tasting board for two.
Hallertau Brewbar and Restaurant
1171 Coatesville-Riverhead Highway, Riverhead, ph (09) 412 5555, hallertau.co.nz, open Sunday 11am-midnight for lunch, dinner and all-day grazing.
After a Sunday walk along a wild west coast beach, stop at Hallertau for handcrafted beer (try the beer tasting paddle to add a sense of occasion) and fresh, seasonal food including small plates such as Winter Soup with Walnut Bread or Chipotle Prawn Taco. It's family-friendly with a playground attached and plenty of toddler toys to entertain the littlest family members.
Shaky Isles Coffee Co.
22 Custom S t East, Britomart, ph (09) 377 9310, shakyisles.co.nz, open Sundays 8am-4pm.
Build up your strength for Britomart shopping with a pit stop at Shaky Isles Coffee Co.
Winter Porridge with Organic Oats, Dried Fruit, Box Grater Winter Fruit Salad and Sesame Honey or Pikelets with Grilled Banana and Maple Syrup should do the trick, with a strong dose of coffee.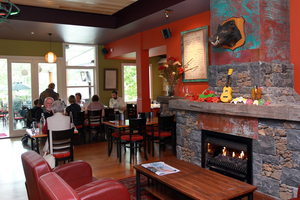 The Riverhead
Cnr Queen and York, Riverhead, ph (09) 412 8902, theriverhead.co.nz
Follow the footsteps of the pioneers by taking the Riverhead Ferry to New Zealand's oldest riverside tavern. It's $35 per person return ($20 children) and leaves from Pier 3, Downtown Ferry Terminal - phone for times: (09) 376 0819. The pub itself is sprawling with plenty of outside and indoor dining options perfect for large get-togethers.
High Tea at Orbit
Sky City, Corner Federal and Victoria Sts, Auckland City, ph (09) 363 6000, skycityauckland.co.nz, open for High Tea Sunday 2.30pm-4.30pm with last booking at 3.30pm.
Take your High Tea up in the air at the revolving Orbit Restaurant in SkyCity. Sky Tower admission (normally $28) is included with your $40 per person set-menu cost. Oxtail Fritters with Fresh Aioli and Mini Burgers replace dry scones and pastries for a new take on a traditional favourite.
Raglan Fish Shop
End of Wallis St on Raglan Wharf, Raglan, ph (07) 825 7544, RaglanFishShop, open Sunday 9am-8pm.
For a Sunday drive, head to Raglan Wharf to watch fishing boats unload their haul while you eat the freshest fish and chips in authentic surroundings. The wharf is also a retail space witth home decor shops stocking that something different from the pricey
Auckland versions.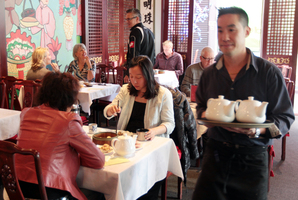 Pearl Garden Restaurant
Level 1, 1 Teed St, Newmarket, ph (09) 523 3696, pearlgarden.co.nz, open seven days for Yum Char 11am - 3pm.
Above a busy Newmarket street is Pearl Garden Restaurant, a great spot for a leisurely Sunday Yum Char and Dim Sum after hectic shopping.
Mama Kan started the small restaurant in 1975 and on any Sunday you may see at least three generations of Kan working in the restaurant.
The service is relaxed and friendly, never pushy. The food is traditional, delicious and made with the freshest ingredients.
Children will love the jugs of watermelon juice from the fresh juice bar, which come with tall glasses and brightly coloured swizzle sticks.
The décor is a mixture of traditional Chinese, dramatic chandeliers and modern elements including a flashing neon blue pole in the middle of the room.
There are six Chinese teas to choose from and dim sum dishes to share, such as Steamed BBQ Pork Buns, Almond on Prawn Toast, Dumplings and Sticky Rice.
We found The Pearl Garden Restaurant to be a fun, friendly and relaxing Sunday dining experience.