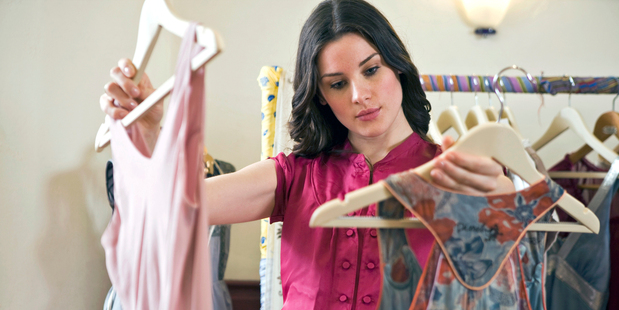 Boy, did I need a personal shopper this week. More than two hours of my valuable time was spent trying to find the right pair of Nike or adidas soccer boots in the right size and the right colour. Doing the rounds of the North Shore's sports shops was time-consuming and frustrating. Football boots aren't in abundance at the tail end of the season.
This is just the sort of job which Charlotte Perry of Charlie's Angels is perfect for. Her clients are busy professionals who need a present bought, shoes repaired, the new house decked out with furniture or the wine ordered for a dinner party.
Personal shoppers come in two main flavours - "lifestyle managers" such as Charlie's Angels, and fashion stylists. The latter includes companies such as Stylists Inc, Your Style and Signature Style.
Stacey Beatson of Stylists Inc says her clients are mostly successful people. After an initial consultation to assess their needs, Beatson and her staff will then find the right clothing and accessories. They will then either put outfits aside in store for the clients to try on or take them to the company's Newmarket base for a fitting session.
Not all personal shoppers' clients are rich and famous. Road safety manager Melanie Dale has been using Signature Style to source her clothing for the past two years. Dale lost a lot of weight several years ago and needed to "reinvigorate" her wardrobe. She took $1,000 to Europe to buy clothes, but failed. "I knew if I went to a shopping mall (in New Zealand) I would come out with the same-old, same-old."
Her saviour was Signature Style's Jody Blackwood, who pre-shopped for her. Dale walked away from the consultation with around 30 items of clothing and accessories and notes on how to mix and match the items for different occasions.
One real eye-opener for Dale was that not everything needed to be a designer label. In fact, some of the basics Blackwood recommended were from everyday stores, including Kmart, Glassons, Farmers and Jacqui E.
Despite paying $150 an hour for Signature Style's services, Dale believes she saves money because she no longer makes costly fashion mistakes. And she doesn't need to think about what she wears any more. "I get compliments every day - even if I only have a $70 outfit on from The Warehouse, Kmart and Glassons."
Women (and men) who want to get a taste of the personal shopper experience could go to a What a Woman Wants fundraiser. Stylist Lisa O'Neill fronts the Farmers-sponsored events. She gives tips on fashion and is available in the local Farmers store the next day to give one-on-one buying advice.

More deals
• Rebelsport.co.nz: Nike and adidas clearance football boots from $49.99.
• 40 per cent off most women's suits in Jacqui E.
• Women's basic tees, tanks and camisoles $4-$8 at Kmart.
• 30 per cent off new season children's clothing at Farmers.