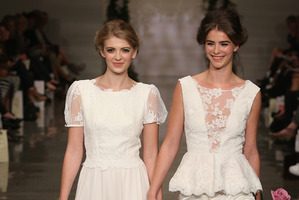 Auckland designer Sera Lilly said sending two female models down the bridal show runway together was a celebration of New Zealand legalising same-sex weddings. Photo / Getty Images
"Here come the brides," said the sign borne by a pageboy as Fashion Week's bridal show yesterday kept pace with changing times. Auckland designer Sera Lilly sent two female models down the runway, one in a lace gown, the other in satin pants and a lace top in what she later said was a "natural" celebration of change.
"I'm really proud to be a Kiwi," she said of the legalising of same-sex weddings. Lilly has stolen a march on designer Annah Stretton who is hosting the actual marriage of two gay Australian women at her Saturday show, during the public part of the trade event, but both follow Chanel supremo Karl Lagerfeld who featured two female models, including New Zealander Ashleigh Good, in a recent Paris show. Lilly said her statement was not a stunt as she has dressed a number of civil union couples, including singer Anika Moa. She also dressed the winners of a radio competition to be the country's first gay wedding and has more wedding bookings ahead. Gay women were as varied in their style choices as other brides, she said.
For live updates and photo galleries of the big shows at fashion week - www.viva.co.nz