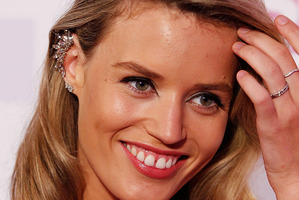 Georgia May Jagger says she will never close her signature gap teeth, because it's the source of good fortune.
The 21-year-old blonde beauty is often snapped on the red carpet flaunting her trademark front gap coupled with a red pout.
She's among a number of new-age models who have embraced their gap teeth - from Aussie model Jessica Hart, baby-faced American Lindsey Wixson to Dutch beauty Lara Stone - all of whom have turned their quirks into assets.
Jagger, the daughter of Rolling Stone rocker Mick and supermodel Jerry Hall, said she was proud of her beauty quirk.
"When I was younger, before I was modelling, I didn't really think about it," she said.
"I think it kind of shows how critical sometimes people can be about beauty in this world that it becomes even an issue. It's funny.
Jagger said she inspired many women to embrace their gap teeth as well.
"It's kind of great that all these young girls are saying to me, 'Oh I have one too."
"It's so nice and and really sweet."
Asked if she would ever consider getting braces to remove the gap, Jagger gave a firm answer.
"No," she laughed.
"It's lucky."
- AAP