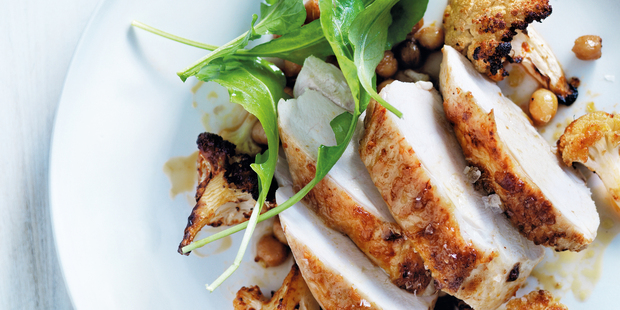 Spicy roasted chicken and cauliflower salad. Photo / Donna Hay Magazine
Serves 4
• 500g cauliflower, trimmed and cut into florets
• 1 x 400g can chickpeas, rinsed and drained
• 1 Tbsp harissa
• 1 Tbsp lemon juice
• 2 Tbsp olive oil
• Sea salt and cracked black pepper
• 4 x 160g chicken breast fillets, skin on
• 2 cups baby rocket leaves, to serve


1. Preheat oven to 200C. Place the cauliflower, chickpeas, harissa, lemon juice, oil, salt and pepper in a bowl and toss to combine. Place the cauliflower mixture on a large lightly greased baking tray and roast for 15 minutes.
2. Add the chicken and roast for a further 20-25 minutes, or until the chicken is cooked through. Slice the chicken and serve with the cauliflower mixture and rocket leaves.


Tips and tricks
• Harissa is a fiery north African condiment made from ground chillies, garlic, coriander, caraway and olive oil.
The spicy paste is usually sold in tubes from specialty food stores, greengrocers and Middle Eastern grocery stores.
• Add this versatile paste to marinades for lamb, chicken or fish, or dressings for a warm roasted vegetable and couscous salad. Remember, a little goes a long way.