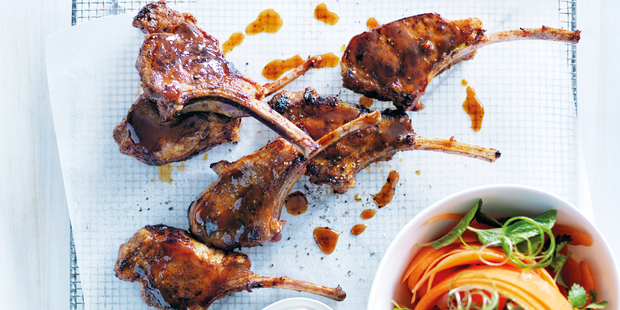 Serves 4
• 2 carrots, peeled and thinly sliced
• 2 spring onions, thinly sliced
• 1 cup mint leaves
• 1 cup coriander leaves
• 1 Tbsp harissa
• 1 Tbsp honey
• 1 tsp balsamic vinegar
• ¼ cup olive oil
• Sea salt and cracked black pepper
• 12 x 70g lamb cutlets, trimmed
• Greek-style yoghurt, to serve


1. Place the carrot, spring onion, mint and coriander in a bowl and toss to combine. Set aside. Place the harissa, honey, balsamic vinegar, oil, salt and pepper in a bowl and stir to combine.
2. Add the lamb cutlets and toss to coat. Heat a large non-stick frying pan over high heat and cook the lamb for 2-3 minutes each side for medium-rare, or until cooked to your liking.
3. Serve the lamb with the carrot salad and yoghurt.


Tips and tricks
• Harissa is a fiery north African condiment made from ground chillies, garlic, coriander, caraway and olive oil. The spicy paste is usually sold in tubes from specialty food stores, greengrocers and Middle Eastern grocery stores.
• Add this versatile paste to marinades for lamb, chicken or fish, or dressings for a warm roasted vegetable and couscous salad. Remember, a little goes a long way.
• Serve the lamb cutlets with flatbread and some store-bought hummus for a more substantial spread.
For more recipes visit the Donna Hay website, www.donnahay.com.