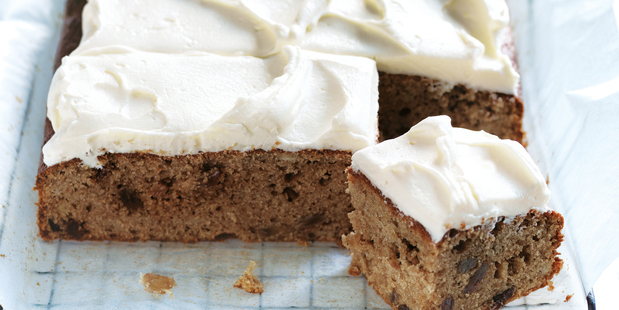 Spiced banana and sultana cake with cream cheese icing. Photo / Donna Hay Magazine
Serves 8-10
• 2 cups self-raising flour, sifted
• 1 tsp baking powder, sifted
• 1 ½ tsp cinnamon, sifted
• 1 tsp ground ginger, sifted
• ½ tsp mixed spice, sifted
• 1 ½ cups dark brown sugar
• 4 eggs
• 1 tsp vanilla extract
• 1 cup sunflower oil
• 1 ½ cups mashed banana
• 1 cup sultanas
Cream cheese icing
• 250g cream cheese
• 50g unsalted butter
• 1 cup icing sugar
• 1 Tbsp lemon juice


1. Preheat oven to 180C. Place the flour, baking powder, cinnamon, ginger, mixed spice and sugar in a bowl and mix to combine. Place the eggs, vanilla and oil in a bowl and whisk to combine. Add the egg mixture to the flour mixture with the banana, and mix to combine.
2. Fold through the sultanas and spoon the mixture into a lightly greased 20cm x 30cm tin lined with non-stick baking paper. Bake for 40-45 minutes or until cooked when tested with a skewer. Allow the cake to stand for 5 minutes before turning on to a wire rack to cool completely.
3. For the icing, beat together the cream cheese and butter with an electric mixer for 6-8 minutes or until pale and creamy. Add the icing sugar and lemon juice and beat for a further 6-8 minutes or until light and fluffy.
4. Using a palette knife, spread the cooled cake with the icing and cut into squares to serve.