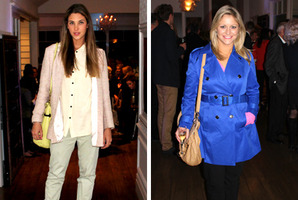 Style File are back keeping a close eye on Auckland this week. Gents about town (pictured above l-r) Ricardo Simich and Andy Pickering (aka the Herald on Sunday 'Spy boys') share the coolest looks found on market stroll, and the best and worst from the social set.
Street Style: Style File paid a visit to Parnell's La Cigale French Market on a bustling Saturday morning. The eclectic mix of chic shoppers included an airline pilot, three models fresh from NZ Fashion Week casting, a pop of Versace baroque and an art consultant from Dubai.
Hot and Not
Best Dressed (left): Jaime Ridge, reality TV star and socialite
A regular in the social pages, Jaime Ridge, made an appearance at the launch of new Auckland app, The Bubble. Looking cool, Jaime went fresh, effortlessly pulling together a softer palate of Spring pastels wearing a Top Shop coat, Zara pants and Mui Mui shoes with a Deadly Ponies bag, and jewellery by Tiffany and Naveya & Sloane.
Worst Dressed: Toni Street, Breakfast presenter
She might be a fashion forward ray of sunshine on morning telly, but at an event this week Toni Street missed the mark. Toni, you're beautiful and charming in person, so please know this hurts us as much as it hurts you, this was a case of the wrong outfit for the occasion. Amongst the dashing Bubble launch guests, Toni's bright blue Portmans trench coat was not so much cocktail chic, but wet weather Smurf.
Check out last week's Style File here.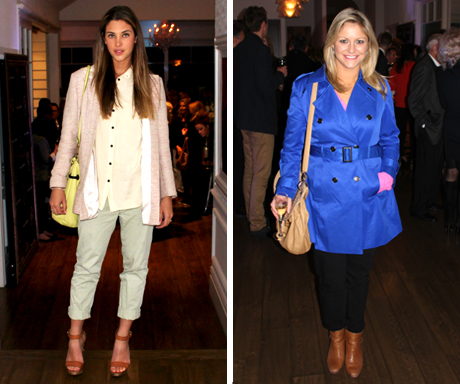 Follow NZ Herald Life & Style on Twitter. Follow our Style File spotters Andy Pickering and Ricardo Simich on Twitter.