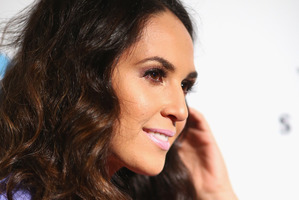 Look out New Zealand, the Marshalls are on their way.
Benji Marshall's decision to sign for the Blues means his wife, Zoe, a self-proclaimed "media personality" in Sydney, is looking for new opportunities here too.
Zoe, 29, told the Herald on Sunday she was extremely excited. "Professionally and personally [it's] the right thing for both of us. We're both pumped to get over there, get settled and take New Zealand on."
Zoe said Australian media suggestions that she would be reluctant to move from the bright lights of Sydney had surprised her as Auckland presented some extraordinary opportunities.
"Currently I'm a media personality. That's TV presenting, radio hosting, co-hosting on shows, being a female panelist on different topics and a bit of writing."
Zoe wants to get into similar work here and has signed with Auckland celebrity agent Sara Tetro.
She and Benji live in a "gorgeous apartment" overlooking the water in Sydney's inner West. She said she'd never lived away from Sydney. But she's already been looking at properties in Parnell, Herne Bay and Mission Bay.
"You're spoilt for choice in Auckland. It's such a beautiful city. It reminds me of a mini-Melbourne."
Zoe said she and "Benj" were avid foodies. In the past fortnight, she'd dined at SPQR ("sensational") and The Grill by Sean Connolly ("phenomenal"). New Zealand's produce and restaurants were top quality. "With the wine and the food, we're going to be very happy."
The couple plan to move to Auckland in the next month or two.