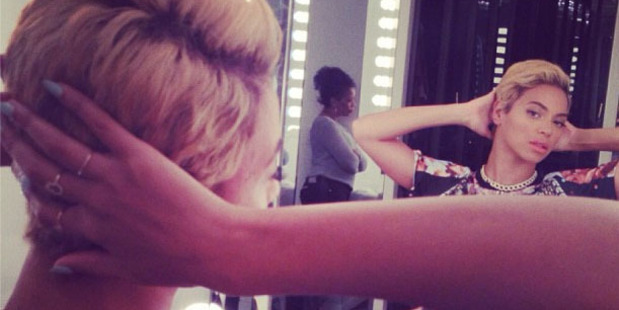 Beyonce Knowles has debuted a cute pixie crop.

The stunning songstress took to Instagram to reveal her dramatic new hairstyle.

Beyonce - who is famed for her signature flowing mane - showed off an edgy short cut as she posed in front of a mirror.

The 31-year-old beauty posted three shots in total, posing with her hands behind her head in a floral top.

Comments on the photo sharing site are mostly in favour of the singer's shorter length, with one user writing: "Oh jesus so perfect!" while another shared: "I Absolutely Love This Look On You! It's very grown up and clearly shows you're beginning a new chapter in your life. Never cease to amaze me. Go get em Bey (sic)."

Beyonce's new 'do comes just a couple of weeks after the star caught her long tresses in a fan as she performed in Montreal as part of her The Mrs Carter Show world tour.

Check out the fan incident in the video below:
It is not known how long the star will keep her new look for though, as she is renowned for constantly changing up her style with a range of hairpieces.

It was even reported earlier in 2013 that the style icon had invested in three different suitcases of hair supplies for her string of concerts - which ended on August 3.

* Beyonce recently added four new concerts to her 13 already-sold-out shows on her Australia and New Zealand tour in October and November.
- WENN