Many common brands contain more than 30 per cent sugar, sparking health concerns.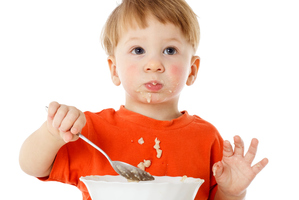 Almost two-thirds of children's breakfast cereals contain too much sugar, a survey of brands sold in New Zealand shows.
Parents are being warned to check what goes in their children's cereal bowl after the Consumer NZ survey revealed many cereals were more than 30 per cent sugar.
Bright packaging, promotional activities and sweet flavouring are used to market many of the cereals to children.
Kids who are fed sugar-laden cereal each morning face health problems including tooth decay and weight gain, and are likely to have an energy "crash" while at school, a nutritionist warns.
Consumer NZ gave 35 of 51 cereals a red mark for sugar content, meaning they had 15g or more of sugar per 100g.
Eighteen were found to be more than 30 per cent sugar. Kellogg's Frosties had the worst sugar content at 41.3g per 100g.
Others with high sugar content included Kellogg's Nutri-Grain, Crunchy Nut Corn Flakes, Coco Pops cereal and rival budget versions, and Hubbards Big Bugs 'n' Mud and Honey Bumbles.
Consumer NZ chief executive Sue Chetwin said given climbing rates of obesity in New Zealand, a bowl full of sugar was a disturbing way to start the day for children.
While cereal grains in natural form contain little sugar, many cereals had sucrose, glucose or honey added.
Sarah Peck of Mission Nutrition said many parents would be unaware how much sugar was contained in some products, and needed to check labels.
Ms Peck said eating sweet cereals could lead to a child developing a taste for such food later in life.
Sugar occurred naturally in fruit and other products, and parents should focus on minimising added sugars.
High sodium levels in some cereals was also concerning. However, Consumer NZ noted that since its last survey in 2008 brands including Sanitarium and Kellogg's had lowered sodium content in some cereals.
About 31 per cent of New Zealand children between 2 and 14 years old are obese (about 10 per cent) or overweight (about 21 per cent).
Child obesity was 8 per cent in 2006/07.
Tooth decay is also a major issue, with around 34,000 children under 14 having teeth removed through decay or infection last year.
Consumer NZ recommended six cereals for kids: Harraways Oat Singles Original and Rolled Oats, Homebrand Wheat Biscuits, Pams Wheat Biskits, Sanitarium Weet-Bix, and Signature Range Wheat Biscuits.
Kellogg's Mini-Wheats Blackcurrent was worth considering despite being slightly too high in sugar - some of this was accounted for by dried fruit, which contains fibre and other nutrients.
While children may want to add some sugar to these brands, parents could see how much was being eaten, Consumer NZ reasoned.
Kids need a daily fibre intake of 5g to 10g plus 1g for each year of their age, and a suitable breakfast cereal is a good way to achieve that. Twenty-one cereals in the survey had less than 5g of fibre per 100g, meaning careful selection was essential.
Consumer NZ has lobbied for "traffic light" front-of-pack labelling, a nutrition marking system recently introduced in the United Kingdom.
Many cereals prominently claim vitamins, minerals or other health benefits, but the real guide is the nutritional information panel and ingredients list, it argues.
A Kellogg's spokesman said the company recognised that the wants and needs of families differed.
"Which is why we offer a wide variety of products from everyday favourites like Mini Wheats and Sultana Bran to tasty options like Coco Pops."
A Countdown spokeswoman said its supermarkets had a range of cereals and it was committed to having clear nutrition information on all Homebrand, Select and Signature Range products. Hubbards did not return calls yesterday.
Will you have cereal with your sugar?
35 of 51 cereals found to have too much sugar
18 were more than 30 per cent sugar
Worst brands
30g or more of sugar per 100g:
Kellogg's Frosties and Froot Loops, versions of cocoa puffs/pops, Hubbards Big Bugs 'n' Mud and Honey Bumbles, Pams Honey Snaps, Homebrand Honey Poppas.
Others with too much sugar:
Kellogg's Nutri-Grain, Crunchy Nut Corn Flakes, Hubbards Thank Goodness Gluten Free Cocoa Puffs.