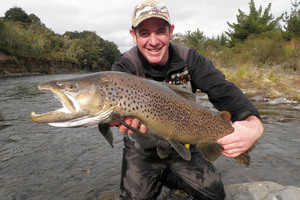 A national licence for trout fishing may finally become a reality after a comprehensive review of the Lake Taupo trout fishery.
A Fish and Game licence covers the rest of the country but a separate licence issued by the Department of Conservation is needed at Taupo. This anomaly began in 1905 when the Crown took over management of the fishery because it was so important as a tourist attraction, and in 1926 when the Crown took over control of the lake and lakebed from Ngati Tuwharetoa.
In 2007 ownership of the lakebed was handed back to Tuwharetoa and the Government's management continued. This has led to a separation of policy, scientific study and management issues.
For example, anglers can purchase a Fish and Game licence online but not a DoC Taupo licence. In Rotorua you can buy a family licence so nominated family members can fish all season for a fraction of the cost of multiple individual licences, but not at Taupo.
Many anglers believe part of Taupo licence revenue goes to Tuwharetoa but the review says this is not the case. All revenue goes to fishery management, which raises the question: why have a separate licensing system?
Taupo anglers have been concerned at the quality of fishing and the poor size and condition of trout, and in the past five years licence sales have dropped by 20 per cent. The perception is that the fishery is in trouble, and the average size of trout has decreased from 2.4kg in the late 1990s to 1.2kg in 2010.
Reports indicate the condition if not the size of trout has improved in the past two years. It is a complex issue, and natural influences such as volcanic eruptions, floods and weather all affect the trout and the generation of their food.
It is now being proposed that more interaction with Fish and Game, particularly at Rotorua, be developed. It makes sense to share science and knowledge.
Bite times
Bite times are 9.20am and 9.45pm today, and tomorrow at 10.05am and 10.30pm. These are based on the moon phase and position, not tides, so apply to the whole country.
Tip of the week
Take up trout fishing. There is some wonderful fishing in the streams in the Waikato, with some huge trout being caught on spinners at this time of year. Fly fishing at Rotorua and Taupo is also good, particularly after rain.
More fishing action can be found on Rheem Outdoors with Geoff, 5pm Saturdays, TV3.