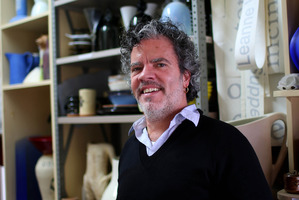 My happy place is the storage room at Masterworks on Ponsonby Rd. It's a treasure trove - slightly chaotic and just lovely, with loads of shelves heaving with the most gorgeous ceramics.
It's slightly overwhelming, too, like going to a fantastic party - there seem to be limitless possibilities.
It makes you think about how there are so many creative people out there, people who've devoted their lives to their craft and their art forms. People are producing lovely bodies of work, but there's only so much of it they can exhibit at one time, and I like to see what else is around.
I was there last week and I thought, "God, I love it here." There were a whole lot of pieces from Katherine Smyth, who used to work at the Sugar Club in Wellington and in London.
There's something there of hers that I'm going back to buy - a beautiful cherimoya that was hidden out the back.
A lot of chefs really love pottery and the plates they use in their restaurants can be very important to them.
And it's interesting how many chefs have become potters - Smyth is one.
It's a similarly transformational and creative process, and very tactile - you start with a lump of earth and you create this beautiful thing and fire it in an oven.
I dabbled with pottery when I was a teenager, but not very successfully. Dad bought me a pottery wheel when I was about 10 in Wanganui - one that you would paddle with your feet - and we never quite got it off the ground. We never got the right clay, and it would fly off the thing.
I've always been a collector of "things", I guess I've just moved from collecting plastic toys as a kid to collecting ceramic art. My house in London is full of New Zealand ceramics and bits and pieces, probably as full as it can get. I love getting up in the morning and having gorgeous things around.
Every shelf in my house is now covered in something, and I need to calm it down, so I've been buying paintings and other bits and pieces instead. It's probably time to stop.
My partner said: "There are a lot of beautiful things in the world, but you don't actually have to own them all." So I'm trying to be slightly more minimal. But it's so tempting - I can always squeeze in just one more thing.
Peter Gordon's new Auckland restaurant and cocktail bar, the Sugar Club, opens in the Sky Tower this weekend. See skycityauckland.co.nz
Masterworks Gallery is at 77 Ponsonby Rd. See masterworksgallery. co.nz, ph (09) 378 1256.