Sunday roast is Kiwi-as. Grant Allen goes back to his childhood for some of the best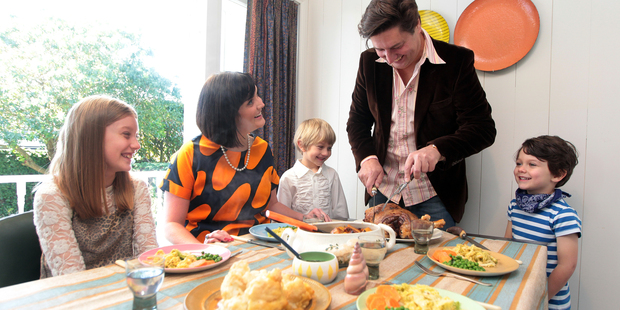 Walking into Alana and Grant O'Neill's kitchen is like taking a step back into the 1970s. There's a mustard yellow wall oven, clinker brick and mosaic surfaces, American-style cabinetry - this kitchen must have once been the flashest in the street.
However, its day is nearly done, as the O'Neills begin the renovation of their newly purchased home.
It inspired me to use it as a setting for a retro roast story.
Before courgettes, red peppers, mesclun and micro greens, the 70s was on the cusp of a food revolution. We still cooked and ate in a pretty traditional New Zealand way, but travel was becoming easier, French food was seen as chic, and appliances were appearing on kitchen benchtops.
American dream kitchen designs and European food was starting to seep into our culinary psyche.
However, the Sunday roast, usually hogget, was still firmly on the menu and still cooked as our grandmother might have done. A decent-sized joint of sheep was roasted for a good couple of hours, often started with the "drippings" of the previous roast.
The potatoes were tucked in around the meat to cook to tasty perfection in the meat juices.
Peas were a must, carrots were boiled , parsnips and pumpkin and possibly kumara were added beside the potatoes, maybe cauliflower cheese topped with breadcrumbs was served with wilted cabbage.
A lot of gravy and home-made mint sauce were essential.
A pudding would follow, maybe a baked rice dish, a steamed ginger pudding with golden syrup sauce or a fancy version of a bread and butter pudding topped with meringue.
And on Monday, it would be Shepherd's Pie for tea. The leftover roast would be minced and moistened with any remaining gravy, then topped with mashed potato.
These days it is hard to source hogget; you will be mostly roasting lamb. You are more likely to use olive oil than meat fats to begin your roast, and your accompanying vegetables will be less prosaic.
The style may have changed but the principles of roasting remain the same.
Strictly speaking, to roast is to cook over an open fire, the beast turned and basted until the meat is evenly cooked. Today, we have the convenience of a domestic oven, but it is still important to baste. Add some liquid (water or stock) to your roasting pan before you put it in your preheated oven. Ladle this and the resulting meat juices over the joint every 15 minutes or so. If the liquid cooks off, add more. This keeps the meat succulent and develops a wonderful liquid base for the gravy.
The Papaspiropoulos family stepped up for these photos - Antonios (Dad), Victoria (Mum), Alexandra, Max and Niko. My old friend Antonios regularly cooks up a big Sunday family roast at home, often slow-cooking a joint in wine and herbs, a lovely nod to his Greek heritage and New Zealand upbringing.
As Niko sidled up to him while carving, I went back to the time when my brothers and I would all be angling to get the shank bone. I seem to remember my father usually won it, his reward for carving.
Here are some recipes for dishes to accompany your roast meat and for using up the leftovers on Monday. Invite the family over and keep alive this great Kiwi tradition.


Recipes
• Cauliflower cheese
• Shepherd's pie
• Queen of puddings