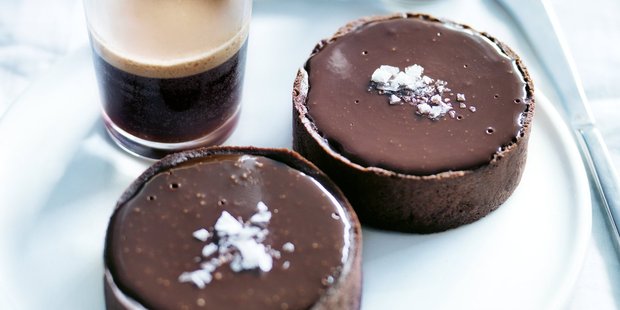 Serves 4
• 300g store-bought chocolate shortcrust pastry (see tips + tricks)
• ½ cup pouring cream
• 150g dark chocolate, chopped
• 1 ½ tablespoons coffee-flavoured liqueur
• Sea salt flakes, for sprinkling


1. Preheat oven to 180C. Using a 12cm cookie cutter, cut 4 rounds from the pastry. Place 4 x 7.5cm metal rings (2.5cm high) on a lightly greased baking tray lined with non-stick baking paper and line them with the pastry. Refrigerate for 15-20 minutes or until firm.
2. Trim the excess pastry with a sharp knife and prick the bottom of the pastry cases with a fork. Line with non-stick baking paper and fill with baking weights. Bake for 15 minutes, remove the baking weights and bake for a further 5 minutes or until just cooked. Allow to cool.
3. Place the cream in a small saucepan over medium heat and bring to the boil. Remove from the heat, add the chocolate and stir to combine.
Allow to stand for 5 minutes before stirring until melted and smooth. Add the liqueur and stir to combine.
4. Pour the mixture into the pastry shells and refrigerate for 1 hour or until set. Sprinkle with sea salt to serve.


Tips and tricks
• For the tarts use metal pastry rings (similar to egg rings) placed on a baking tray lined with baking paper. You can find them at kitchenware stores.
• You can find chocolate shortcrust pastry at speciality food stores and delicatessens.
For more recipes visit the Donna Hay website, www.donnahay.com.