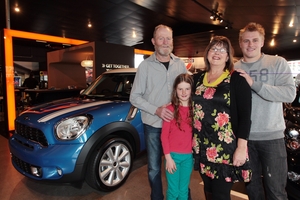 When Auckland grandmother Rosalie Joblin heard the royal baby had been named George, she had more reason than most to celebrate.
Not only do two of her family members share the same name, it meant she was in with a chance in the Herald on Sunday-BMW Name the Royal Baby Competition.
Of the hundreds of entries in the competition to win the use of a new Mini for a month, 35 people correctly predicted George would be the first name.
Joblin's entry was the one drawn, though, and she was delighted by her win.
"My younger son and my husband's middle names are George. It had to be an old-fashioned name," she said of the Duke and Duchess of Cambridge's choice. "Even my granddaughter said 'put George' (when she was entering the competition)."
The Joblins run a family plumbing and drainage business, and live in Swanson. Rosalie has four grandchildren and six grandchildren.
The competition also revealed heavy support for other traditional royal names such as Alexander, Louis, James and William.
Other popular choices were Stanley, Benjamin and Oliver. Alfie, too, had some support. Two people picked the name Theophilus and the most unusual female name suggested was Morag.