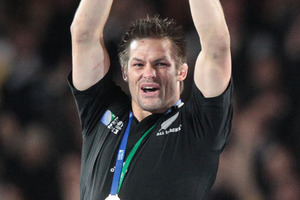 If Prince George had been born a century ago, New Zealand's gift of a hand-made shawl would have been perfect. In 2013, however, it represented an uninspired offering from a country that, ironically, boasts companies whose stock-in-trade is innovative gifts for the parents of today and their newly borns.
That is not to say our gift was not a superb piece of work. The hand-spun, hand-knitted fine lace shawl, similar to one gifted by New Zealand when Prince William was born, looked every bit the product of spinner Cynthia Reed's 280 hours of work. But even the hark back to the new baby's father underlined the failure of imagination by whoever in the Prime Minister's office or the government apparatus was responsible for commissioning the shawl.
As much was illustrated by some of Prince George's other gifts. Aston Villa, Prince William's favourite soccer team, sent a uniform with the letters HRH and No1 on the back.
Prince William has also shown himself to be a keen rugby follower. An All Black jersey with much the same inscription would have been very much a gift in keeping with the times.
It, or something even more creative, might not have been the product of the shawl's hours of toil. But it would not have been trumped by a similar shawl made from Australian merino wool on the Prince's debut. It would have been a modern gift for a modern couple - and a great piece of promotion for New Zealand when worn by the Prince.