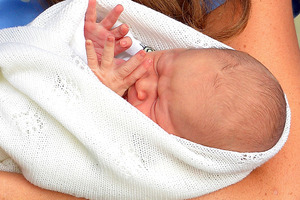 Scientifically speaking, Prince William and his wife Kate could have come up with a better name for their newborn, suggests a psychologist who's studied how people react to different names.
It could be 70 years hence but when William and Kate's baby eventually becomes monarch he could be known as King George VII.
But if he chooses one of his middle names as sovereign the royal baby might become Britain's first King Alexander or first King Louis.
The Duke and Duchess of Cambridge on Wednesday said they were delighted to name their son George Alexander Louis.
"I definitely would not have selected the name George," said US expert, Prof Albert Mehrabian of the University of California in Los Angeles (UCLA), the author of several books on names and other forms of "non-verbal communication".
Based on Prof Mehrabian's research into how names influence the way people treat and think about others, George has a overall attractiveness percentile score of 36, compared, for instance, with James, which scores a perfect 100.
Kiwis were backing the name James in an online poll of over 11,000 people this week. Nearly 30 per cent of respondents voted for James when asked their pick for the royal baby, while George came in second with 21 per cent and Alexander followed with 15 per cent.
Broken down into categories, George did okay in terms of conveying an impression of being ethical and caring, but it was weaker in terms of projecting masculinity, success and fun.
Prof Mehrabian, said he doesn't think George was a "stuffy" name, and believed the British royal family had its own good reasons for going with it.
The child's great-great-grandfather was King George VI, who father was King George V.
"I only wish, for the little boy's sake, they could have picked a far more attractive name," he said.
"There are plenty of excellent names with fabulous connotations that would have been fitting nicely to a prince of the United Kingdom."
Watch baby George's first public appearance and read more below:
Royal historian Anna Whitelock says the name has something for everybody.
"But it's very much an acknowledgement and tribute to the royal side of the family rather than to the Middletons,'' she said.
George, being the Queen's father's name, would be "hugely popular" with Her Majesty, Dr Whitelock said.
The name is associated with continuity and stability because George VI became king after the 1936 abdication crisis.
Alexandra is the Queen's second name so Alexander can also be seen as a tribute to Elizabeth II.
There's been no King Alexander before although there have been three Scottish kings with that name.
"Some might say this is a savvy move with the referendum next year on Scottish independence," said Royal Holloway University's Dr Whitelock.
Louis is one of William's middle names and the first name of the late Lord Mountbatten who was Prince Charles' great-uncle and confidant.
The announcement is expected to see a spike in the popularity of George as a name in the UK and abroad.
The baby's name was revealed in an official statement after the Cambridges escaped London to Kate's parent's house in Berkshire.
Read more about the relevance of royal names here.
- AFP, AAP