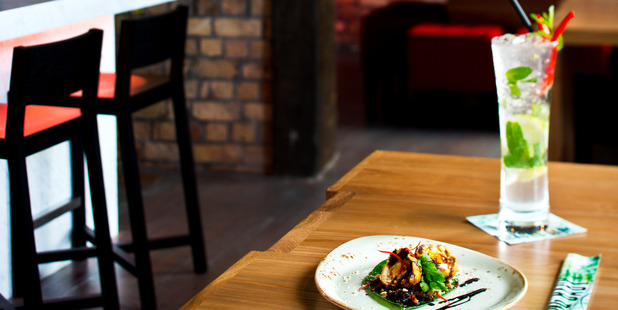 Mekong Baby in Ponsonby. Photo / Babiche Martens
We love a clever reinvention and Dominique Parat's decision to close his Ponsonby stalwart GPK and remodel the space and menu to reopen as Mekong Baby is an example of how successful restaurateurs read the market and are prepared to change with the times. With the current frenzy for modern Asian eats, which seems unlikely to abate any time soon, this eatery is bang on trend. Head chef Ben Convery's menu reads like an adventurous journey down the mighty river that winds its way from China, through Myanmar and Thailand, then Laos, Cambodia and Vietnam. Tempting us are dishes of melting pork belly, apple slaw and sticky chilli caramel or refreshing raw kingfish with green nam jim, a thrilling sweet, sour and salty dipping sauce from Thailand, and one of my all-time favourites, sago with cooling coconut and palm sugar syrup. Check out the blue and white street sign outside that will have you wondering if you've been transported to the bustling streets of Hanoi - cute.


Mekong Baby, 262 Ponsonby Rd, ph (09) 360 1113. mekongbaby.com. Open 12pm until late.
- VIVA