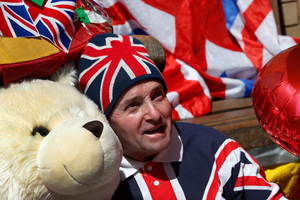 Britain's royal baby has spawned a social media frenzy, but one newspaper's website installed a "republican button" to let readers escape the wall-to-wall coverage.
The announcement that Prince William's wife Kate had gone into labour sent #RoyalBaby and similar tags trending on the microblogging site Twitter.
Among those tweeting was the Archbishop of Canterbury Justin Welby, who as head of the Church of England is expected to baptise the royal infant.
"My thoughts and prayers are with Kate and the whole family on this enormously special day," Welby tweeted.
CNN broadcaster Piers Morgan tweeted: "Keep Calm...and Carry On. #Kate" and added, in a reference to England's Ashes cricket win on Sunday: "My money's on an Australian cricket birth - all out by tea."
Former British deputy prime minister John Prescott of the centre-left Labour party joked: "Great to hear the Duchess of Cambridge has gone into labour. Is she an affiliated member?"
But it was not all royal baby joy.
The Guardian newspaper, long known for its left-leaning anti-monarchist stance, gave its website readers the option of making all royal baby stories disappear.
Its front page carried a button saying "Republican?" in purple lettering above the box containing the site's royal coverage.
Pressing it eliminates all mention of the baby - except on the breaking news feed, where the words "Royal Baby: Duchess of Cambridge admitted to hospital" continued to scroll relentlessly.
The republican version of the paper meanwhile carries a button saying "Royalist?" to opt back in.
Follow the hype on Twitter here with the hashtag #royalbaby:
- AFP