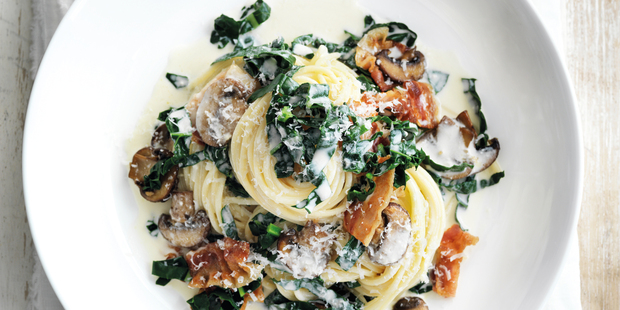 Serves 4
• 400g spaghetti
• 1 Tbsp olive oil
• 1 Tbsp butter
• 2 cloves garlic, crushed
• 300g brown mushrooms, sliced
• 100g sliced flat pancetta, chopped
• Cracked black pepper
• ½ cup sour cream
• 1 ½ cups chicken stock
• ¼ tsp grated nutmeg
• 300g cavolo nero, trimmed and shredded
• Finely grated parmesan, to serve


1. Cook the pasta in salted boiling water for 8-10 minutes, or until al dente. Drain and set aside. While the pasta is cooking, heat the oil and butter in a large frying pan over medium heat.
2. Add the garlic, mushrooms, pancetta and pepper and cook for 6-8 minutes, or until the mushrooms are golden and the pancetta is crisp. Mix the sour cream, stock and nutmeg together in a medium bowl and add to the mushroom mixture.
3. Increase the heat to high and bring to a simmer. Add the pasta and cavolo nero to the pan and toss to coat. Divide the pasta between 4 bowls and top with the parmesan to serve.

Tips and tricks
• Store cavolo nero in the crisper of your refrigerator, it should last for up to one week. Wash before using.
• Rehydrate dried porcini mushrooms in boiling water and add them to the pasta. You can then use the mushroom liquid in place of the stock.
For more recipes visit the Donna Hay website, www.donnahay.com.