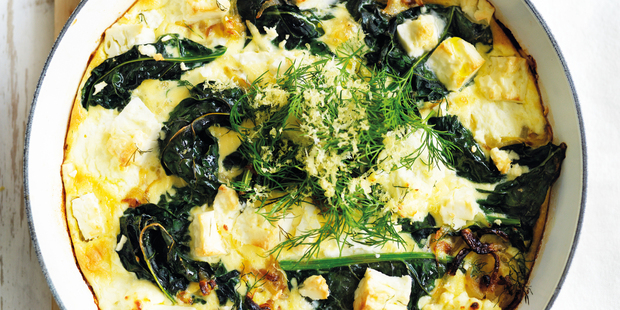 Frittata with cavolo nero and dill. Photo / Donna Hay Magazine
Serves 4-6
• 2 Tbsp olive oil
• 1 onion, thinly sliced
• 2 cloves garlic, sliced
• 300g cavolo nero, trimmed and roughly chopped
• 8 eggs, lightly beaten
• 1 cup pouring cream
• ⅓ cup dill sprigs, chopped
• 1 tsp finely grated lemon zest, plus extra,to serve
• Sea salt and cracked black pepper
• 200g feta, crumbled
• ½ cup ricotta


1. Preheat oven to 200C. Heat the oil in a 30cm-round heavy-based ovenproof dish over medium heat.
2. Add the onion and garlic and cook for 4-6 minutes, or until soft. Add the cavolo nero and cook for a further 1 minute or until just wilted. Place the egg, cream, 2 Tbsp of the dill, and the lemon zest in a large bowl, sprinkle with salt and pepper and whisk to combine. Pour the egg mixture over the cavolo nero and top with the feta and ricotta.
3. Transfer dish to the oven and bake for 20-25 minutes, or until just golden and just set. Top with the remaining dill and extra lemon zest to serve.

Tips and tricks
• Replace the feta in the frittata with goat's cheese. If you don't like dill, use chives, chervil or tarragon.
• Rehydrate dried porcini mushrooms in boiling water and add them to the pasta. You can then use the mushroom liquid in place of the stock.