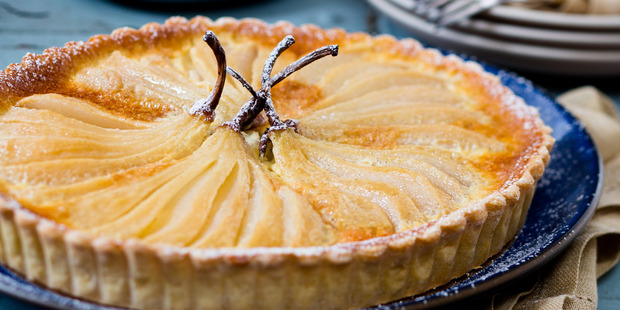 Serves 6-8
• 250g sweet pastry dough
• 1 cup sugar
• 500ml water, or enough to cover pears
• Juice of 1 lemon
• 4 large pears, peeled
• 100ml milk
• 100ml cream
• ½ vanilla pod
• 3 eggs
• 120g caster sugar
• 2 Tbsp flour
• 2 Tbsp granulated sugar, for top


1. Preheat oven to 200C. Grease a 23cm loose-bottomed tart tin.
2. On a lightly floured board, roll the dough out and use to line the tin. Using your rolling pin or a knife, remove the excess dough. Refrigerate for 30 minutes. Prick the pastry with a fork, line with baking paper, beans or rice then bake blind for 15 to 20 minutes. Remove from the oven, carefully remove the baking paper. Cool until needed. Turn oven down to 180C.
3. In a pot large enough to fit the pears, place the sugar, water and lemon. Bring to a simmer and stir until the sugar is dissolved. Add the pears and cook for 15 to 20 minutes until a skewer goes in easily. Remove and cool.
4. Cut the pears in half, scoop out the core carefully with a teaspoon.
5. Heat the milk, cream and vanilla pod in a pot. Bring to the boil, then remove from heat. Discard the vanilla pod.
6. Beat the eggs and sugar until light and fluffy, slowly add the cream mixture, beating well. Sprinkle in flour, then allow to cool.
7. Slice the pears into fan shapes and arrange in your tart tin. Pour the custard around the pears and bake for 30 minutes, until golden and set. Leave in the tin for 20 minutes before removing.
8. Serve with whipped cream.
- VIVA