This week Viva profiles three entrepreneurial Kiwis who call California home. We'll share one of their inspiring stories with you each morning.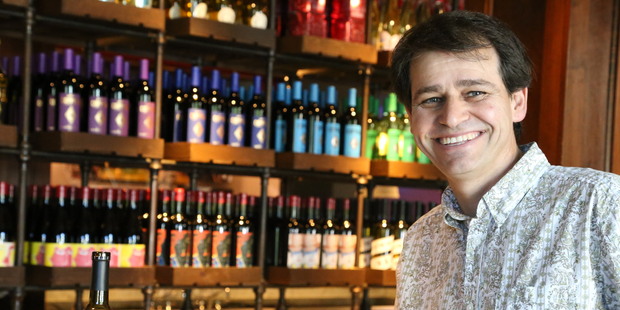 STEPHAN MICALLEF
At Francis Ford Coppola Winery, no one gets to sit in the chair from The Godfather, not even staff, says Kiwi Stephan Micallef.
Memorabilia from Coppola's other big movies - Apocalypse Now, Dracula, and his daughter Sofia Coppola's Marie Antoinette - take up two floors of this Napa Valley winery, almost overshadowing the story of his wines.
Micallef, 46, has worked for the famed director for the past five years as vice-president of operations and he's giving me a tour of this huge, meandering property, which feels more like a Hollywood movie park than a vineyard. An expansive swimming pool is surrounded by rows of blue-covered deckchairs and the long row of private cabanas and several bocce courts give the place an Italian feel. Guests can rent the cabanas online and they book out months in advance, says Micallef. There are chess tables, an outdoor stage for visiting musicians and two restaurants - a casual outdoor cafe and an Argentinian grill that has flower-filled terraces overlooking the vineyards.
"Francis' idea was to create an environment where you can enjoy all the good things in life," says Micallef, who admits he doesn't get much time here out front with guests. He's out back, making sure the vineyard's bottling and processing arms are running smoothly.
Micallef got his start in the wine business at Montana Wines (now Pernod Ricard) in Auckland but, after 10 years in New Zealand, he and wife, Georgie, a New Yorker he met at a summer camp in the States, decided it was time to give their kids, Jessica and Josh, then 10 and 12, a taste of America.
It was a bold leap, moving to California without a job or friends while his wife and kids headed to New York, but he was determined to find a position in Napa Valley.
"I arrived in California with two suitcases and one contact from Allied Domecq [which had bought Montana]."
His contact kindly took him in for six weeks and although he didn't get a job in Napa Valley, he landed one in nearby Central Valley. A year later he got a call from Beam Estates in Napa and took up a role in operations there.
It wasn't long before fellow Kiwi Austin Sharp, then CFO at Francis Ford Coppola, called on Micallef. They needed someone with an engineering background who had the ability to manage a huge expansion at Francis Ford Coppola.
"I liked the fact there was a different flavour to what they were doing."
So what's it like working for one if the greatest directors of all time? "Francis knows what he wants. He comes up with so many creative ideas. Sometimes my engineering brain is thinking: 'Why are we doing this?' Like the pool, for example. But it turns out it's been a huge drawcard."
Today, with temperatures in the 30s, guests are waiting patiently for the gates to open at 11am so they can dive into the water.
Creative details drive Coppola, says Micallef, who had to outsource a machine from France, the only one of its kind, to decorate his bottles with a wire mesh. "Francis thought it would make them stand out in the shelf."
Coppola is intimately involved in the packaging and design of every bottle. And many of the wines are named with movie-related themes, such Director's Cut, Cinema and Sofia.
There are displays of props and memorabilia from Coppola's movies among wine racks - and his five Oscars stand gleaming behind glass cases.
Replica ships from the movie Marie Antoinette are displayed in the upstairs tasting room and downstairs a red Tucker car, from the movie Tucker: The Man and His Dream, revolves on a platform.
"There's only 49 or so of these cars left in the world and Coppola owns two of them; they are probably worth US$2 million to $3 million each."
Although the winery has a Hollywood feel, winemaking runs in Coppola's blood; his Italian parents made wine in the basement of his Detroit home, Micallef explains, and many visits to Italy cemented a love of winemaking.
Coppola's latest project, which Micallef will turn into reality, is developing the now-vacant third wing of the winery into an event space.
Although Micallef misses family and New Zealand's wonderful beaches, he has no plans to return soon. "There are so many opportunities to succeed here, so many choices." With a wave, he jumps into his convertible and drives off into the hot Californian sun.


Stephan Micallef's Wine-country Tips
• Drink ... Coppola's Cinema, a cabernet-zinfandel blend. It has great characters of a red with a spicy zin mix. I have it with fire-roasted rack of lamb marinated in pomegranate and onion.
• The Director's Cut chardonnay - it's delicious. Not as oaky as the big Californian chardonnays, it has citrus characters with light oak. I like to pair it with the linguine alle vongole.
• Bike ... through the rolling hills of the Napa Valley.
• Wander ... the beaches at nearby Bodega Bay. It's a beautiful coast, shame that the water is so cold!
• Raft ... the Russian River.
• Eat ... at Scopa in Healdsburg: lovely Italian food(the calamari is the best); Dry Creek Kitchen: a Charlie Palmer restaurant in Dry Creek, great food although a little pricey; Willi's Seafood, Healdsburg: seafood served up in small tasting plates.
Check out Innovative Kiwis Part 1: Victoria Ransom and Part 2: Anna Weinberg

- VIVA