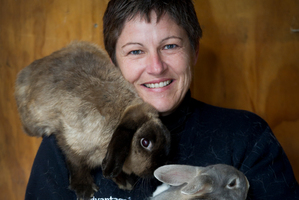 Auckland SPCA is overrun with rabbits.
The organisation is hunting for homes for more than 40 rabbits - and staff say it's a great time to adopt.
Chief executive Christine Kalin said if they did not find new homes the SPCA would soon be inundated.
"Rabbits make wonderful pets - they're affectionate and full of personality. Ideally, we just want to get the rabbits into good long-term homes," said Ms Kalin. "They're great companions. If you're prepared to adopt a rabbit, now is the time do it."
The SPCA said school holidays were a good time for both owners and pets to get familiar with the routine of feeding, grooming and exercising their rabbits.
Ms Kalin said it was also important for current owners to have their rabbits desexed to avoid an "overabundance" that could ultimately end up at the SPCA.
"The bottom line is rabbits are fabulously cuddly, loving animals that you'll adore."
Anyone interested can visit the SPCA animal village in Westney Rd, Mangere, between 10am and 4pm daily.