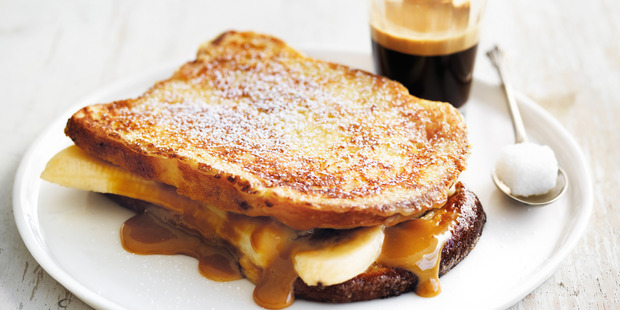 Serves 4
• 2 eggs
• ½ cup pouring cream
• 1 tsp vanilla extract
• 1 Tbsp caster sugar
• 8 thin slices brioche
• 1 cup store-bought caramel filling+
• 2 bananas peeled and thinly sliced lengthways
• 2 Tbsp unsalted butter
• Icing sugar, for dusting


1. Whisk together the eggs, cream, vanilla extract and sugar in a bowl. Spread each slice of bread with caramel filling and top half the slices with banana. Sandwich with the remaining bread.
2. Melt 1 tsp butter in a large non-stick frying pan over medium heat. Dip 2 sandwiches in the egg mixture and cook for 2 minutes each side or until golden and crisp. Set aside and keep warm.
3. Repeat with remaining butter and sandwiches. Dust with icing sugar to serve.

Tips and tricks
• Keep the toast warm between making batches by putting it in a low oven before serving.
• Versatile. The banana-caramel french toast also makes a perfect dessert, served with a dollop of double cream or icecream and a maple syrup.
• Try changing the maple syrup for honey or agave syrup, serving the plain version with your favourite fresh berries, or sandwiched with mascarpone or cream cheese for an interesting twist.


+ Find caramel filling in the baking section of the supermarket.
For more recipes visit the Donna Hay website, www.donnahay.com.