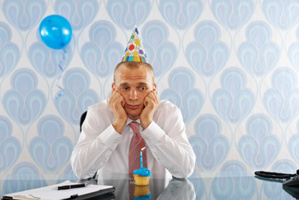 Want to know something interesting? A spooky number of clients come to see me when they have a big birthday coming up. People flock for life coaching when they are 29, 39, 49 and 59. Why is that? Because these milestone birthdays create a powerful force for reflection. An external benchmark of our success - or not. Are we where we thought we would be at 40 or 30 or 60? Does life look as we imagined? The spouse, dog, 2.4 kids and white picket fence? Even if we do have that, does it feel like we thought it would? Are we as fulfilled as we thought we would be at that milestone age, as we blow out the throng of candles and clink the flutes?
When I turned 40 I wrote a blog post My 40 splendid truths of being a grown-up. It was one of my most popular posts and I SO enjoyed writing it.
Inspired by a good friend sending me a photo of us both drunk on our 20th birthdays, I looked at the photo of that girl and thought "Whooaaaa.
I wish I had known then what I know now!" I also could not believe I appeared to have voluntarily chosen to be wearing a crop top.
I wanted to spirit myself back in time and whisper in that 20-year-old's-ear, telling her things like:
• Life lesson #12: You are not responsible for other people's choices or reactions.
• As well as Life lesson #1: Just because you can do a job well doesn't mean you should be doing it.
• As well as, of course, Life lesson #31: You can never have too many shoes.
Of course you don't need to have a milestone birthday to take the opportunity to reflect. You can do it any time. Or, more specifically, right now!

Today is the perfect day for you to look back and see the mass of wisdom you have accumulated. To see what you have learned, what you know about yourself for sure.
What I find fascinating about these milestone reflections is that people naturally tend to focus on what they don't have in their lives that they thought they would have at this point. - that they are not as secure financially, not in the romantic or family situation they had envisaged, or their career has not gone as planned.
What I want you to do however, is to consciously bring the focus to the positive. I want you to focus on what you do have, what you are proud of, what you have learned. Bring that wealth of wisdom you have to the surface!
Answer these questions:
What age am I now?
What are the five key life lessons I have learned over the years, about my:
• Body
• Career
• Family
• Love
• Life
One of the best decisions I ever made was to ...
What three bits of advice would I give to my 20-year-old self?


Action step
Check out my splendid truths post for inspiration, and start answering the questions above in your happiness journal. Celebrate how wise you have become over the years.


Louise Thompson is a life coach, yoga teacher and corporate escapee. For more from Louise, visit positivebalance.co.nz or connect on Facebook.