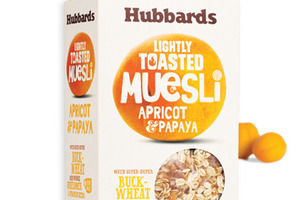 Cereal maker Hubbards has ordered a relabelling overhaul after internal testing found four mueslis had much higher sugar content than stated.
The Kiwi company blamed human error for four products being incorrectly labelled. It tested the products after the Herald on Sunday revealed some cereals had up to 120 per cent more sugar than advised on the boxes.
Chief financial officer Sean Kelly said the error was "regrettable" and thanked the Herald on Sunday for drawing attention to it.
"Independent testing found inconsistencies in the sugar levels printed on the labelling of four of the mueslis. After a thorough internal review, we are satisfied this has been a genuine mistake resulting from human error."
An industry insider said it would be the biggest case of mislabelling of products in New Zealand for years.
The four flavours affected were Natural 5 Fruits & Honey, Lightly Toasted Apricot & Papaya, Lightly Toasted Pineapple & Coconut, Double Toasted Golden Syrup & Cranberry. Hubbards said new labels would be added from July 15.
Previous independent testing found Double Toasted Golden Syrup & Cranberry, advertised as having 13.8g of sugar per 100g, had an average of 100 per cent more. That meant a 600g box would contain an extra 18 teaspoons of sugar.