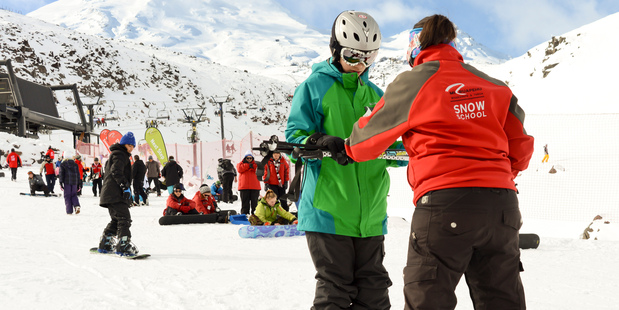 Ruapehu's ski season kicked off with the Ohakune Mardi Gras last night, as police urged people to party smart.
A liquor ban was in place again this year, as well as a road policing operation to stop people driving drunk.
The Mardi Gras was well underway by 8pm last night. Kiwi musicians Tiki Taane and P Money warmed the crowd and eased tired ski and boarding legs back into rhythm. Organiser David Williams said about 6,000 enthusiastic punters were in for the start of the event.
Central District road policing manager Inspector Dave White said: "Over the past few years the behaviour at the Mardi Gras has been really positive - it's just a small minority that the party smart message doesn't seem to be getting through to."
Ohakune residents woke to clear skies and sunshine yesterday, in time for the ski season.
Turoa and Whakapapa opened yesterday, greeted by more than 4,000 people after 2m of snow fell on Mt Ruapehu over the week.
About 385,000 people are expected at the two skifields before the season ends in early November.
Ruapehu is one snowfall away from being able to open the upper mountain as well, said Chris Thrupp, general manager operations.
But the whole country will warm over the next week with westerly winds hitting most of the country, said Philip Duncan, analyst at WeatherWatch.co.nz.
That may put pressure on the snow that fell last week.
Duncan said winds will be more like spring than the middle of winter, bringing parts of the south up to the mid-teens.
Temperatures in July-September are expected above average across the country, according to Niwa.