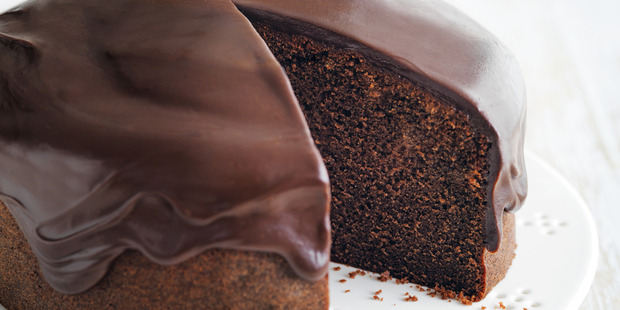 Serves 8-10
• 1 ½ cups self-raising flour, sifted
• ¾ cup cocoa, sifted
• 1 1/3 cups caster sugar
• ½ cup brown sugar
• 1 tsp vanilla extract
• 250g unsalted butter, melted
• ¾ cup milk
• 4 eggs


1. Preheat oven to 160C. Place the flour, cocoa, caster sugar, brown sugar, vanilla, butter, milk and eggs in a bowl and whisk until well combined. Pour into a lightly greased 22cm round cake tin lined with non-stick baking paper (with the paper sitting 2cm above the edge of the tin).
2. Bake for 1 hour and 30 minutes or until cooked when tested with a skewer. Allow to cool in the tin for 10 minutes before turning out on to a wire rack to cool completely.
3. Spread the cake with the ganache icing.


Chocolate ganache icing (Makes 1 cup)
• 150g dark chocolate, chopped
• ½ cup pouring cream
1. Heat the chocolate and cream in a small saucepan over a low heat, stirring, until melted and smooth.


Tips and tricks
• The mud cake will naturally sink and crack a little while it cools in the tin. Cool completely before removing.
• Allow the icing to completely cool before spreading over the melt-and-mix cake.
• You can freeze the melt-and-mix cake (un-iced) for up to 2 months but bring them to room temperature before serving.
For more recipes visit the Donna Hay website, www.donnahay.com.