Living's photographers Doug Sherring and Michael Craig played with Instagram photos of some of the best spots in the CBD for Sunday brunch. Words by Danielle Wright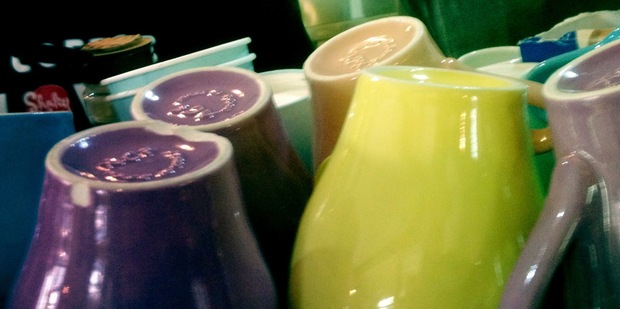 Heading to the heart of the city on a Sunday morning offers quiet streets for easier parking, bustling hospitality workers and more unique food options than you might realise. It's always exciting to watch a city as it wakes - without the hurry to get to an office afterwards - and eating out in the city offers a central meeting spot for friends and family located in different parts of Auckland. Here's our pick of the best Sunday brunch spots in the city:
1. Shaky Isles Coffee Co
22 Customs St East, Britomart, (09) 377 9310, shakyisles.co.nz. Open Monday-Friday 7am-4pm, Saturday and Sunday 8am-4pm
Stop at Shaky Isles for Pikelets with Bacon, Grilled Banana and Maple Syrup or Classic Pink Grapefruit with Vanilla Sugar. There's also Canadian Sardines, Cream Cheese and Vine-ripened Tomatoes on Ciabatta or Organic Poached Eggs and Silverbeet on Danish Rye. Wash it down with a smoothie, milkshake or
try the "filter coffee" bar serving single origin coffee on the go or in the beautiful historic building setting.
2. Depot
86 Federal St, Auckland, (09) 363 7048, open from 7am, eatatdepot.co.nz
Al Brown's Depot is great for shared plates. Drop in for Tuatua Fritters with Hawke's Bay Sour Pickle and Egg Mayo and Friday Capers or Snapper Sliders with Picked Lemon Mayo and Watercress, as well as oysters and clams from the raw bar.
3. The Store and Ortolana
The Store: The Pavilions at Britomart, 5B Gore St, (09) 366 1864, open 6.30am -3pm. Ortolana: 31 Tyler St, Britomart, (09) 368 9487, open 7am-11pm (no reservations)
Complemented by the smell of freshly baked bread and pastries from an onsite artisan bakery, The Store serves "gourmet convenience" food and gelato for takeaway or casual dining in the inner courtyard right next to lululemon athletica: just remember try on the sportswear before brunch.
Nearby is sister bistro Ortolana, always spilling glamorous groups on to the pavements after Sunday brunch most weekends. Its pretty setting with plenty of greenery and fairy lights matches its fresh, light meals made with produce from its orchard at Kumeu.
4. Best Ugly Bagels
City Works Depot, cnr Wellesley and Nelson Sts, Auckland, (09) 366 3926, open 7am-3pm, bestugly.co.nz
Stop into Al Brown's Best Ugly Bagels - hand-made, wood-fired Montreal-style bagels smothered in premium ingredients from artisan producers from all over New Zealand. There's everything from traditional Cream Cheese, Salmon Lox, Red Onion, Capers & Fresh Dill to Jalapeno Kingfish Melt with Cheddar to kick start your morning, washed down with Havana Coffee.
5. Wynyard Quarter
Corner Jellicoe & Halsey Sts, North Wharf, Auckland City. Opening times and the full selection of eateries at Wynyard Quarter is at wynyard-quarter.co.nz
Early-morning strolls along the waterfront are always magical. Add some exciting eateries to the mix and you have the perfect area to meet friends for Sunday brunch. Choose from gastro pub Jack Tar, home baking and the finest espresso at Rushworth, the "living" bar of The Conservatory, or Marvel Grill, each with outdoor tables overlooking the harbour. If you can manage it, stop for Gelatiamo gelato afterwards - a treat even on the coldest winter day.
6. Elliott Stables
41 Elliott St, Auckland City. Most Elliott Stables eateries open at 11am on Saturdays and midday on Sundays. For phone numbers of each, visit elliottstables.co.nz
Eat your way around the world for a late brunch at Elliott Stables, an exciting social melting pot with options from Italian, Cajun, Latin American, French, Japanese, Indo-Mediterranean and Spanish, as well as New Zealand's first European sausage house.
Auckland Art Gallery Cafe
Corner Kitchener and Wellesley Sts, Auckland City, (09 374 0901 ext 0. Open from 10am on weekends), aucklandartgallery.com
Classic breakfast dishes of Egg's Benedict and Mushrooms on Toast are complemented by the Aspiring Artists Menu for children under 12, including Sargent's Eggy-bread Soldiers with Maple Syrup and Ice Cream and Renoir's Croque Monsieur (meals come with activity packs). Feast the eyes afterwards on the beautiful views inside the gallery and out. The exhibition California Design, 1930-1965: Living in a Modern Way opens on July 6.