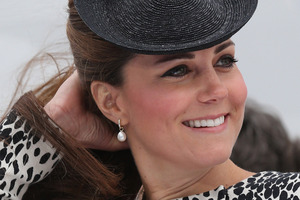 The Duchess of Cambridge plans to give birth naturally rather than having a caesarean section.
The future monarch will be born in the private Lindo wing of St Mary's Hospital, Paddington, where the Duke of Cambridge was born. William hopes to be with his wife throughout the delivery.
However, the Duke does not plan to take any time off before the delivery, so he could be 480km away in Anglesey when the Duchess goes into labour.
St James' Palace insists that the Duke and Duchess have chosen not to know the sex of the baby beforehand.
Aides confirmed that Marcus Setchell, 69, the Queen's former gynaecologist, will deliver the baby, assisted by the Queen's gynaecologist Alan Farthing, 50.
Asked whether the Duchess had opted for an elective caesarean birth, Palace sources said she intended to give birth naturally.
The Duke planned to take only two weeks' statutory paternity leave.
The Duchess is expected to stay either at Kensington Palace or with her parents in Berkshire before her due date in mid-July. Contingency plans have been put in place with the Royal Berkshire Hospital in Reading in case she goes into labour while visiting her parents.
The first indication that the Duchess has given birth will come when an aide leaves the hospital carrying a piece of paper with details of the baby's sex, weight and time of birth. The note will be relayed to Buckingham Palace, where it will be placed on an easel. The news will then be put out on the Palace's Twitter feed.
Aides said no electronic communication would be made until the official notice was released. "It's important this is done with a degree of dignity and with half an eye on the historical significance," they said.
No announcement of the birth will be made until after the Queen, other senior members of the Royal family, and the Middleton family have been informed. If the Duchess gives birth at night no announcement is likely until the Queen has woken.