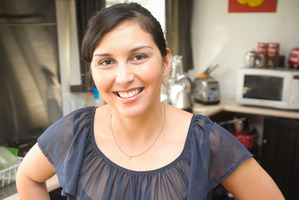 The first batch of new chefs has graduated from the prestigious Le Cordon Bleu cooking school in Wellington today, including a former MasterChef contestant who will be working for one of the world's top ranked restaurants.
Twenty-one students, aged between 23 and 47, completed the intensive nine-month Dipl de Cuisine and Dipl de Ptisserie courses, with about a quarter of them group heading straight into jobs at top restaurants.
One of those, former MasterChef contestant Andrea Bathgate today found out she had been hired to work as an intern for Brazil's superstar chef Alex Atala, at his Sao Paulo restaurant D.O.M, rated sixth best in the world.
It was a "once in a lifetime opportunity", she said.
Ms Bathgate will start at D.O.M in February, which would give her a chance to save and learn some Portuguese.
MasterChef and the cooking school were vastly different experiences, she said.
"MasterChef was being on a TV show and being thrown in the deep end and having random challenges thrown at you and the course ... definitely in terms of the cooking was a lot higher up there compared to the show."
The school's New Zealand director Cath Hopkin said the students had mastered the French culinary techniques and recipes necessary to work in a professional kitchen.
"Being a chef can be an extremely high-pressure career and students need to be ready for the demands of a busy kitchen."
The inaugural group featured 15 New Zealanders, but the school was expecting 80 percent of this year's intake to be international students.
"This year, we have students from Mexico, Brazil, Norway, USA, Britain, China, Japan, Korea, Singapore, Thailand, Indonesia, Malaysia, India, Oman, Russia and Ukraine," Ms Hopkin said.
Le Cordon Bleu, which has 30 schools in 15 countries, charges $30,000 for a nine-month term.
The school was initially planned for Martinborough, but local objectors launched an Environment Court appeal in 2009.
A Wellington site was then sought for the five-star, 300-student school.
- APNZ