Address:
601 New North Rd, Morningside
Phone:
(09) 849 7268
601newnorthroad.co.nz
Cuisine:
Japanese
Rating:
7/10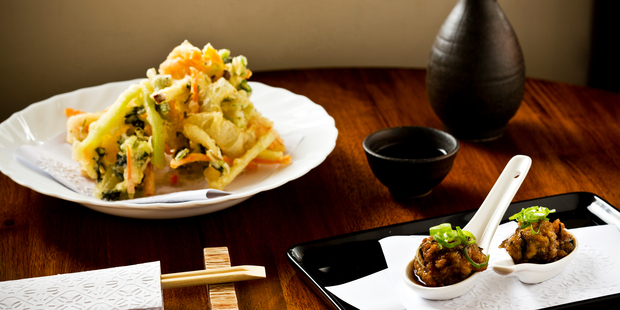 We're pleasantly surprised when we step out of a cold and blustery winter's night into the enveloping warmth of Sake 601.
This small Japanese eatery, located in the nondescript Morningside shops, is an unexpectedly bright, cosy space, with its simple white decor broken up by Hawaiian-print tableclothes and, rather incongruously, a surfboard.
The board is explained by front-of-house maestro Gen Ogata, clad, of course, in a Hawaiian shirt, after he greets us at the door and shows us to our table in front of the central flickering gas fireplace - it turns out both he and owner/chef Hiroshi Miyata are mad-keen surfers.
We're glad we'd booked because almost every seat of the less than 20 available - which includes bar stools and couches - is taken.
Booking ahead also brings the bonus of a complimentary pre-dinner canape - tonight a delicate spoonful of deep-fried tofu, Japanese yam and seaweed with a pretty shaving of spring onion on top. Delicious, with a light miso flavour, but we're hungry, and it's gone in a flash.
Tempting smells waft from the busy open kitchen where you can see chef Miyata working his magic, and we turn to the tight menu which features sushi, tempura, noodle and hot pot dishes, as well as dishes more common to Western menus: chicken, steak, fish and kumara and potato chips.
It is difficult to choose but we settle for a combination of both, and our shared dishes arrive on the table at a good pace, allowing us to enjoy and digest each one before the next one appears.
The salmon nigiri is so fresh and creamy it almost melts in our mouths, while the slightly haphazardly constructed but charming avocado and cream cheese-rolled sushi with juicy fresh chunks of prawn are packed full of flavour.
The kaki-age that arrives next is a real treat. Described as "fritter-style", the tangle of tempura vegetables (capsicum, onion, seaweed and kumara ...) and prawns looks more like a bird's nest. Light and crispy, we quickly demolish it, before moving on to our mains of market fish and angus beef. We've opted for grilled snapper from the seven types of fish on offer, which range from kingfish to cured kahawai.
Both the market fish and the slices of beef tenderloin arrive with side salads, mushrooms and more tempura.
Each is cooked to perfection - the fish flaky to the touch, the beef just slightly pink - though both prove a little salty for our tastes.
Staying in theme for dessert we share a tempura banana with chocolate icecream and cream, though the moffles - sticky rice cakes made into waffles and served with either red bean paste, fruit or honeycomb - sound good too. Maybe next time.
It really is true than you can put anything in tempura batter and it will taste great. The hot and sweet pieces of banana are delicious paired with rich icecream which has big chunks of chocolate through it.
The restaurant has small but decent sake and wine lists and a selection of Japanese beers (our favourite), including a non-alcoholic Asahi, but it's worth noting that on Tuesday and Wednesdays you can BYO.
Its specials board changes daily and is posted on the website and Facebook pages.
Little details like this are what make it such a good neighbourhood restaurant, not to mention the simple table settings with quality chopsticks wrapped in white embossed paper resting on small wooden blocks; beautiful dishes; elegant presentation; a relaxed, buzzy atmosphere; and blankets on the seats in case you feel a chill. Best of all is the excellent, knowledgeable (and award-winning) service from Ogata.
The food, which will cost you more than cheap and lively spots like Ken, Nishiki and Tanuki's Cave, but not as much as the fine dining establishments of Ebisu, Cocoro and Soto, is simple but well-executed, and it would be hard to find fresher fish at any establishment in Auckland - though we would prefer it with a little less salt.
We leave full and satisfied, not really surprised Sake 601 is cranking on a cold winter's night in the middle of the week.
If this eatery was in my neighbourhood, I'd be there as often as I could.


From the menu: Edamame beans ($7.50); salmon nigiri sushi (4pcs, $16.50); prawn, avocado and cream cheese sushi (3pcs, $7); kaki-age ($12.50); market fish of the day (entree, $22); NZ angus beef steak (entree, $24); tempura fair-trade banana with chocolate icecream ($11).
Drinks: BYO (Tues and Weds), licensed.
- VIVA