Comforting recipes to keep the home fires burning when it's cold outside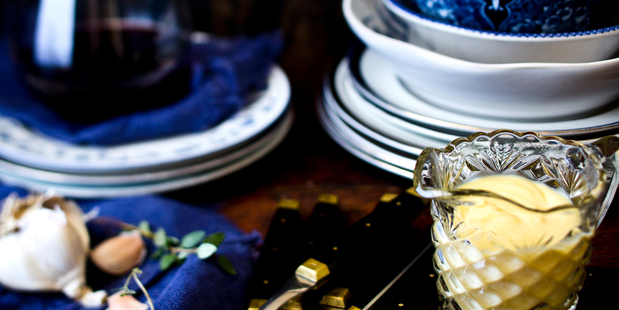 When the rain is beating down on the roof, it is a wonderful excuse to hunker down and keep warm with some real winter fodder. Why not invite friends over, grab a DVD, light the fire and enjoy a great bottle of red? We did just that on the last wet day. We baked, stewed and casseroled, and then steamed up a delicious pud. It was so much fun. And, when the rain did finally ease, it was out the door for a walk in the fresh damp air; a chance to clear the cobwebs and get the dog out.
Everyone seems to like a good boeuf bourguignon - beef in red wine - so you can't go wrong. It's not essential, but if you can, marinate the meat the day before in the wine, garlic, thyme and bay leaves. Then simply drain, pat dry and continue the recipe the next day.
Crusty bread is always part of a French meal, and perfect to soak up the juices of the bourguignon. It adds to the no-fuss rustic feel of this dish which is perfect washed down with a good pinot noir. Oh, to be on the back streets of Paris in a small cafe.
Today's hearty pea and ham soup is a favourite in our family. This a real stick-to-your-stomach soup, just how food should be on a cold winter's day. You could put the soup through a blender before you put the ham back in, but personally I don't think it's necessary. If it's a little thick for your liking, add a bit of extra stock or water. This soup calls out for some crunchy croutons on the top. Use leftover bread, baked in the oven with a dash of olive oil and a sprinkling of herbs.
Steamed pudding takes me back to my days working in Scotland, when these heart-warming desserts would be served for lunch with cream and custard to the hunters heading into the Highlands in search of game. It was guaranteed to keep them going until they returned for the next meal - high tea. Then they would fish for a trout or two and return for a three-course dinner. But that's another story. Steamed puds are so versatile: try making them with jam, marmalade or even chocolate.
So batten down the hatches on the next rainy day, get everyone involved in the kitchen and enjoy feasting on these winter warmers.


Recipes
• Boeuf bourguignon
• Thick pea, ham and vegetable soup
• Golden syrup steamed pudding


For more fabulous recipes from Angela Casley, visit foodhub.co.nz
- VIVA