Grant Allen conjures up a banquet on the road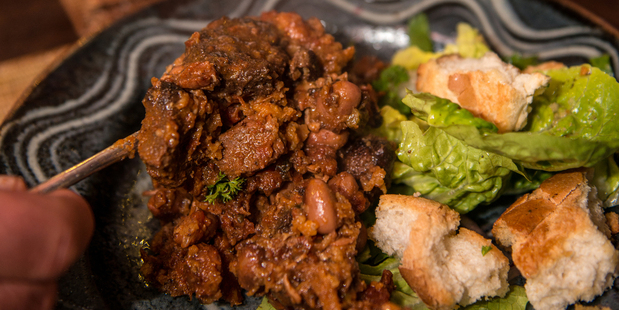 I felt like I was going to be cooking for the Queen, as one of Greg's guests was restaurant royalty, Fleur Sullivan of Fleurs of Moeraki fame. Her legendary restaurants and immense support of regional foods have created legions of fans. In her honour, I thought I would try to use as many local products in one dish as I could - meats, black pudding, wild duck, Dean's Bush borlotti beans and more.
A cassoulet comes into its own, as this French classic has many variations on the base of a bean stew to which various meats and charcuterie are added. Simmered for a length of time, the unctuous brew is topped with bread crumbs to form a crust.
I bought some belly pork, smoked bacon, sausages, black pudding and some hogget from Oamaru's Campbell's Butchery. Still family run, the butchery has been operating for more than 100 years. I had my freshly-shot duck. I cheated on the stock and bought some prepared chicken stock, though this dish is so rich you could use water alone.
I bought the Canterbury-grown dried borlotti beans at the Dean's Bush market but if you can't find local, use imported dry beans.
They need to be soaked overnight in lots of cold water. I had some sour dough bread from the market for the crumbs, then all I had to grab were a couple of tins of tomatoes from Katy's cupboard.


1. If you are using dried beans, soak them in water overnight. Drain, put into a large pot, cover with cold water and simmer until they are tender. Allow them to cool in their cooking liquid.
2. In a heavy-based pan, cook off some diced carrot, celery, onion and garlic in oil and butter until they are soft. Add a bay leaf and some tomato paste if you have it.
3. Once the vegetables have softened, add chunky pieces of smoked bacon and cubed belly pork. Stir until the meats start to colour.
4. Cut the sausage and black pudding into bite-sized pieces, add these to the pan and continue to cook, stirring often.
5. Add the cooked beans, canned tomatoes, and enough stock or water to cover all this and set to a simmer.
6. Cut the other meats (I used more of the duck breast and hogget) into big dice or cubes. Sear the meat in batches in a hot pan then add to the cooking pan with the other ingredients.
7. Once everything is together I find it easier to put all this into a large casserole dish (or if you are making huge quantities, use roasting pans and cover with foil) and continue the cooking in the oven. Set the oven to a medium heat, let the cassoulet cook away for three hours. Keep an eye on your liquid, the cassoulet needs to stay "soupy" so you may need to top up with water as you go. Once all the meats are tender, remove the tinfoil or lid.
8. Break the bread into chunky breadcrumbs and spread all across the top surface with a good layer. Turn the oven down to low, return the casserole or baking dishes to the oven and allow to gently bubble away until the crumbs form a toasty crust.
This is a one-pot dish but a bit of green is always good so serve with a simple salad of rocket, radish and oversized croutons.