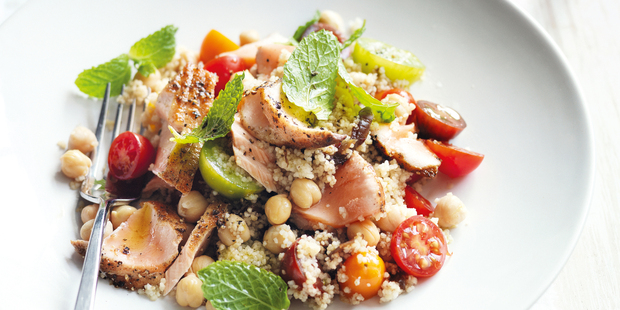 Spiced salmon couscous salad. Photo / Donna Hay Magazine
Serves 4
• 2 cups cooked couscous
• ¼ cup store-bought caramelised onion relish
• 1 x 400g can chickpeas, drained and rinsed
• 250g mixed cherry tomatoes, halved
• 1 cup mint leaves
• 1 tsp ground cumin
• 1 tsp ground coriander
• 1 tsp cracked black pepper
• 1 Tbsp olive oil
• 4 x 200g salmon fillets, skin removed
• Lemon wedges, to serve
Harissa and lemon dressing
• 2 Tbsp olive oil
• 2 Tbsp lemon juice
• 1 Tbsp harissa paste
• Sea salt and cracked black pepper


1. To make the dressing, combine the oil, lemon juice, harissa, salt and pepper and set aside. Place the couscous, onion, chickpeas, tomato, mint, salt, pepper and 2 tablespoons of the harissa and lemon dressing in a bowl and mix to combine. Set aside.
2. Mix to combine the cumin, coriander, pepper and oil. Heat a non-stick frying pan over high heat. Rub the fish with the spiced oil and cook for 3 minutes each side or until cooked to your liking. Flake the salmon, add to the couscous and mix to combine.
Serve with lemon and remaining dressing.


Tips and tricks
Try making the spiced salad with grilled chicken instead of salmon and omit the harissa from the dressing for a milder flavour.