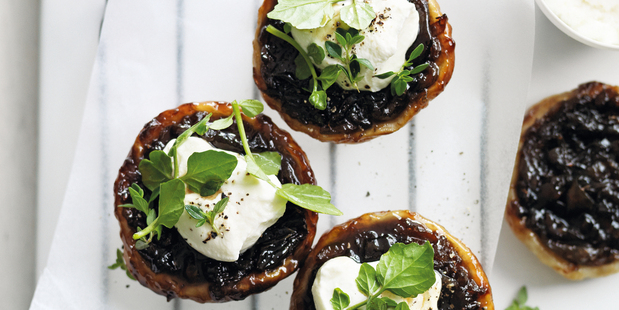 Caramelised onion tarte tatin. Photo / Donna Hay Magazine
Makes 12
• 2 sheets store-bought puff pastry, thawed
• 1 cup (300g) store-bought caramelised onion relish
• 100g goat's curd
• 1 Tbsp lemon thyme leaves
• Olive oil, for drizzling
• Cracked black pepper
• 50g watercress sprigs


1. Preheat oven to 190C. Using a 6cm cookie cutter, cut 12 rounds from the pastry and set aside. Line the base of 12 x ½ cup-capacity cupcake tins with non-stick baking paper. Divide the onion between the tins and top with the pastry rounds. Using a sharp knife, make a small cut in the pastry.
2. Place the tins on a baking tray and bake 18-22 minutes or until puffed and golden. Loosen the edges of the pastry with a palette knife and carefully invert.
3. Top the tarte tatins with goat's curd and lemon thyme. Drizzle with olive oil, sprinkle with pepper and top with the watercress.


Tips and tricks
The mini tarte tatins make the perfect party snack. Try topping with blue cheese or curls of parmesan for a tasty variation.