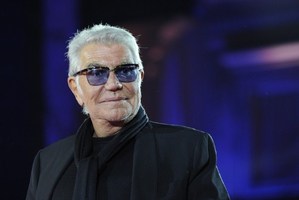 Italian fashion designer Roberto Cavalli will lift the lid on his life when he releases his autobiography later this year.
Cavalli is one of the most flamboyant characters in the fashion industry and never shies away from giving his true opinion.
He has announced he has finished penning his story, with the book to be released in October.
"In a few months, you will know everything," he told vogue.co.uk.
"I don't know why I decided to do it - I guess I had something to write. It doesn't really talk about fashion though, it talks about me and my life."
The book is currently 300 pages long and Cavalli has been working on it for several years.
Initially it will be available in Italian and German, although the star is looking for publishers in other countries in the hope it will be made available all over the world.
Although the designer has been married to Eva since 1980, his appreciation of women is legendary.
His designs usually involve leopard print and sparkle and he likes to think he helps his female customers show off their sexy side.
The star has been fascinated by women from an early age, telling the kind of story which it's thought will feature heavily in his upcoming tome.
"When I was young - well I am still a little boy - but when I was younger, I was a little playboy from Florence," he said.
"I used to take the hand of a woman, look into her eyes and tell her about her future. I bought a book about fortune-telling. I swear sometimes I was right - a woman speaks with her eyes."
- COVER MEDIA