A ground-breaking New Zealand skincare company is vying for attention on the world stage with its anti-ageing serum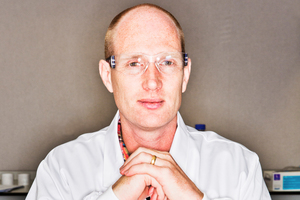 Our philosophy is: your face is our billboard," says entrepreneurial pharmacist Greg Macpherson. His challenge as chief executive of New Zealand company MitoQ is getting its Auckland-made product on to enough faces to have a fighting chance of success in the big brand-dominated beauty business.
Macpherson is upbeat about the outlook for this pioneering skincare serum seeking a slice of the lucrative anti-ageing market. "I think we've got a lifetime of work with patented MitoQ," he says.
He has been pitching the product in the United States and Britain, pushing the science story behind its development. This includes a now-patented delivery mechanism that, when twinned with an already recognised skincare ingredient, greatly enhances its effectiveness - albeit in laboratory conditions, rather than topically where serums are applied.
The research that led to MitoQ began at Otago University under the now-retired Dr Rob Smith.
He worked with Cambridge University's Dr Michael Murphy, who retains an oversight, speaking on the product's research and agreeing to be on a US-based advisory board that MitoQ plans to set up.
At the heart of the scientists' work is the role of mitochondria and oxidative stress and the diseases related to it. Oxidative stress is also considered a key cause of accelerated skin ageing, with antioxidants used to combat cell-damaging free radicals.
The scientists focused on the use of mitochondrial-targeted antioxidants, specifically co-enzyme Q10 (also known as ubiquinone), and have amassed published papers exploring the topic over nearly a decade.
Bold talk of patents and breakthrough research is standard stuff in the skincare sector, but more often emanates from the marketing departments of companies based in Paris, Hamburg, Tokyo or New York.
Parent company Antipodean, which is based at Auckland's Viaduct Harbour and has MitoQ made at Douglas Pharmaceuticals in Henderson, doesn't have a marketing department. It has Macpherson and backers with big ambitions.
The key players aren't the usual folk behind local skincare start-ups, which mostly fall into the category of low-tech, natural-based product makers.
As well as Macpherson, who launched online supplier Pharmacy Direct in 1997, there's Antipodean Pharmaceuticals' CEO Dr Ken Taylor, a pharmacist who returned to New Zealand after a successful senior career at Roche. Taylor knew about Smith's research at Otago and brought it to the attention of venture capitalist Gary Lane of Lane Capital Investments. Lane attracted American money to the project and chairs Antipodean, of which he is the main shareholder.
Taylor operates by contracting expertise into Antipodean and sees application of the research stretching well beyond skincare.
A line of health supplements will be launched in September and there are possibilities in oral health. "We kicked off with a cosmeceutical product," says Macpherson, "because you can see the effect if you put it on your skin."
A cynic might say that along with the lower costs to market of a cosmetic compared with a pharmaceutical, there's also a lower threshold in terms of any proof of efficacy.
"It is evidence-based and science based," maintains Macpherson, talking of clinical trials in the UK.
He also uses the product himself and reckons his skin has become noticeably smoother over time.
Macpherson sees MitoQ's competitors as the likes of StriVectin and particularly Elizabeth Arden's leading anti-ageing pillar Prevage, which includes idebenone, a related substance, also in Priori skincare. "It is significantly more effective than idebenone," he says of MitoQ's engineered co-Q.
Co-Q10 is found in many companies' products, notably in mass-market brand Nivea's premium ranges, where it has long been the hero ingredient.
The difference, explains Macpherson, is that by attaching a positive charge to co-Q, scientists found they were able to attract the negatively charged mitochondria, showing that under laboratory testing conditions, the substance was 1000 times more effective than when in other leading topical co-Q formulas.
This isn't comparing like with like, of course, and the jury is still out on how much of a lasting difference topical skincare - including MitoQ - makes, but the scientific first in bringing co-Q to mitochondria at levels significant enough that it may apply in a range of health applications is why you might hear more about this than the average skincare product.
The positive charge delivery mechanism could be used to boost levels of other antioxidants and in combination with retinoids. Macpherson talks of the possibilities of MitoE or MitoC (using derivatives of vitamin E and C), but says it is co-Q that has the most potential and is Antipodean's focus.
MitoQ serum is being sold online only, at $225 for a bottle that lasts around two months - not dissimilar in pricing to many serums that fall below the "bottled gold" super premium bracket. Mainstream retail distribution is not being considered.
"If we do anything else it will be through doctors, clinics," says Macpherson.
He is banking on a slow-building buzz and says the product is starting to get media coverage internationally, especially in the US, where the company has a PR agent. "If a product works, people will pay for it."
As well as the US and the UK, promotion in Asian markets is being eyed.
"We've got a product which has efficacy ... If people use it and like it, eventually it will snowball."
- VIVA